New Director Signed To Direct Preacher... But Who Is It?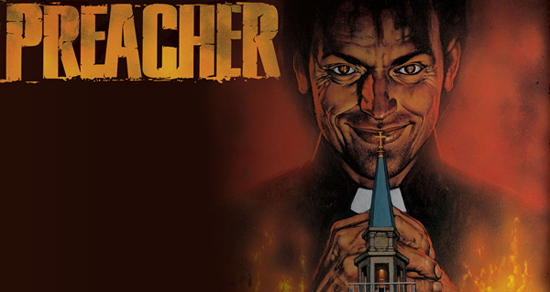 It has been a while since we've gotten a solid update on the big screen adaptation of the beloved Vertigo comic book series Preacher. A couple years back, Columbia Pictures picked up the rights and hired American Beauty/Road to Perdition director Sam Mendes to helm the project, but the filmmaker dropped out to pursue Bond. John August (Go, Big Fish) penned the script which producer Neil Moretz has said will be the first of a series of films.
In the latest issue of Total Film Magazine, they talk with producer Moretz about the project, and gives a couple tidbits. First off, the film adaptation will be rated R. Secondly, August's script is "a really faithful adaptation but made it probably more accessible to a broader audience." And thirdly, Total Film mentions that "Another unnamed director has apparently signed on." But who could that filmmaker be?
We do know that screenwriter John August (who has directed a feature film called The Nines) has expressed an interest in directing the film himself, as he and Moritz were talking about the wishlist of possible directors to replace Mendes. Moritz has said that it might be a possibility is none of those other guys say yes.
We also have heard that A-Team director Joe Carnahan has said he would like a shot at Preacher:
I'm kind of desperate to do another comic book adaptation...And the other thing I'm really keen on or interested in is 'Preacher' because I'm a big Garth Ennis fan and I love that series and that's out there, and that might be something...I really love that. You gotta do the Allfather (D'Aronique) and all that crazy shit and I haven't seen a script and I don't know what it is, but yeah, we'll see. Who knows?
Those are our two guesses. I'm not sure who else might be connected the the project.
Preacher has a long history of false starts, despite having a loyal following among geek filmmakers. Originally set-up at Kevin Smith's View Askew with a $25 million budget and James Marsden attached as the title character, the project fell into limbo and later found light as an HBO television series helmed by Mark Steven Johnson (fans were not happy about this one). When the one-hour series was first announced in November 2006, Pretty in Pink director Howard Deutch was named to helm the pilot episode. Robert Rodriguez was said to be one of the "many top-shelf directors interested in" directing an episode of the series. I have yet to read the series, but from what I understand, most fans saw it more as a television mini-series than a big screen movie.
The official plot synopsis from the graphic novel follows: "Here's a book guaranteed to offend a bunch of people, not only because of its profuse profanity and graphic violence, but because it's the epitome of iconoclasm. Like a brutal accident, you can't watch but you can't turn away. The story follows an ex-preacher man, Jesse, who has become disgusted with God's abandoning of His responsibilities. So Jesse starts off into the wilds of Texas with his hitman girlfriend and new best friend (a vampire) to find God so that he can give Him a piece of his mind. Despite its superficial perversity, this book contains what may be the most moral character in mainstream comics. A cult hit in the making. Fans of Quentin Tarantino take note."
The 75 issue comic book series was created by writer Garth Ennis and artist Steve Dillon, and published between 1995 to 2000.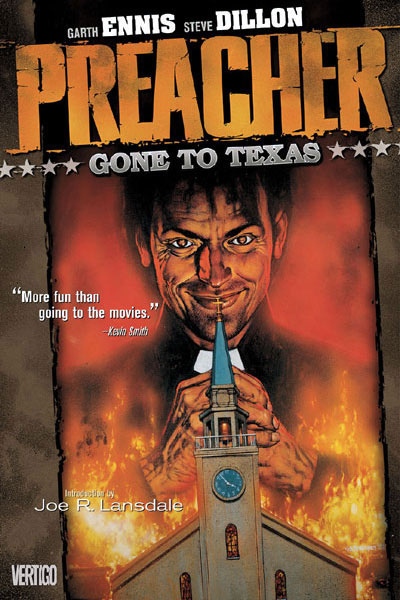 via: CBM