Dwayne Johnson Negotiating To Star In Sequel To 'Journey To The Center Of The Earth'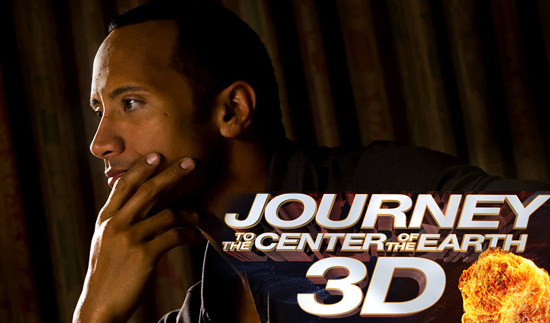 We've known for a long time that a sequel to Journey to the Center of the Earth is in the offing. Josh Hutcherson, who co-starred with Brendan Fraser in the first film, is definitely back for more. But Fraser will be a no-show for take two. Now Dwayne Johnson is in negotiations to take his place as co-star of Journey 2: The Mysterious Island.
THR says that Johnson is expected to close a deal by the end of this week to appear in the film. He'd be the boyfriend to the mother of Hutcherson's character. THR says the story is loosely based on Jules Verne's novel The Mysterious Island, and says that it will follow Johnson and Hutcherson's characters as they travel to " a mythical and monstrous island to find [Hutcherson's] missing grandfather." (We don't know if Jane Wheeler is returning as Hutcherson's mum and Johnson's girlfriend.)
Verne's The Mysterious Island follows five prisoners of war who who escape the Confederate-controlled city of Richmond, Virginia via hot air balloon. They crash land on a volcanic island east of New Zealand. Eventually the group finds a castaway on a nearby island, and has to deal with his former pirate crew. There are more secrets on the island, including one that harkens back to Verne's earlier novel featuring Captain Nemo and the Nautilus.
Difficult to say, then, exactly how the plot of the novel will be adapted to the film. The first guess is that the search for the grandfather puts Hutcherson and Johnson on the 'mysterious island,' and sees the grandfather standing in for the nearby pirate castaway.
Beyond that, we can probably expect Journey 2 to be slightly bombastic family-friendly fare. The first film was fine for what it was (slightly bombastic family fare) but not terribly memorable. Expecting more out of Journey 2 seems foolish. The first film was an early arrival in the current 3D wave and, naturally, the sequel will be shot and released in 3D.