First Look: David Tennant As Peter Vincent In Fright Night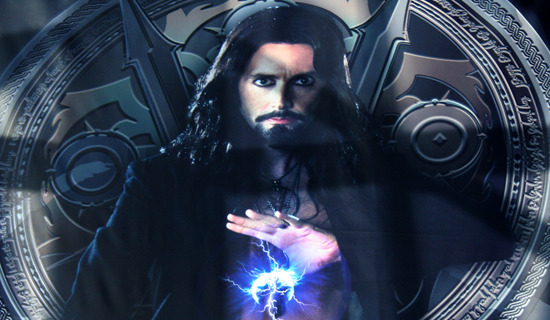 Briefly: Here's your first look at David Tennant (Doctor Who) in makeup and costume for his role as the new Peter Vincent in the remake of Fright Night. The character was originated by Roddy McDowell, at which point Vincent was a washed-up former actor turned TV horror host. Tennant's version, as you can see, is a little different. And very Captain Jack Sparrow-ish.
The new version of the character is a Vegas stage magician, who gets roped (kind of) into a battle against a vampire (Colin Farrell) by a high school kid, played by Anton Yelchin. This banner seems to be part of the set dressing for the Hard Rock hotel where some scenes for the film are being shot, and it advertises Peter Vincent as a larger than life performer. Check out bigger pics, after the break.
Click each image to enlarge.