Darren Aronofsky's Black Swan And The Wrestler Started As One Movie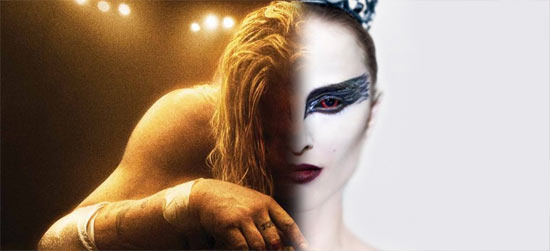 After watching the deliriously bizarre and awesome Kafkaesque trailer for Black Swan, it's baffling to think that the film could've ever been originally envisioned as the same movie as the heart-wrenching, profoundly moving The Wrestler, but a recent interview with director Darren Aronofsky confirms that this was the case. Read what he had to say after the break.
MTV has the interview, which has Aronofsky explaining how both films originated.
At one point, way before I made 'The Wrestler,' I was actually developing a project that was about a love affair between a ballet dancer and a wrestler, and then it kind of split off into two movies. I realized pretty quickly that taking two worlds like wrestling and ballet was much too much for one movie. So I guess my dream is that some art theater will play the films as a double feature some day.
Though Aronofsky didn't write either film's screenplay, he was responsible for the development of both. In the case of The Wrestler, for example, Aronofsky sought Robert D. Siegel to script his idea for a film about a broken-down wrestler after coming across the screenplay for Big Fan (which Siegel later turned into a movie starring Patton Oswalt). So I'd be really interested to learn more about the various forms the ideas behind these films took, and more specifically, at what stage Aronofsky's "ballet movie" evolved into a supernatural thriller about a girl who appears to be transforming into a swan.
Despite this massive distinction between the two films, Aronofsky claims they are still thematically linked:
I've always considered the two films companion pieces. They are really connected and people will see the connections. It's funny, because wrestling some consider the lowest art — if they would even call it art — and ballet some people consider the highest art. But what was amazing to me was how similar the performers in both of these worlds are. They both make incredible use of their bodies to express themselves.
Getting a small taste of Aronofsky's passion for these intensive feats of physical performance reminds me how perfect he would've been for The Fighter, but it's hard to complain about the initial plans for that project falling through when a film as intriguing and odd-looking as Black Swan was allowed to be made.
Black Swan hits theaters December 1, 2010. What Aronofsky is going to do next is still up in the air, but hopefully it won't be Wolverine 2.