Casting Notes: Danny Trejo And Michelle Rodriguez In 'Skinny Dip'; Bryan Cranston In 'The Grief Tourist'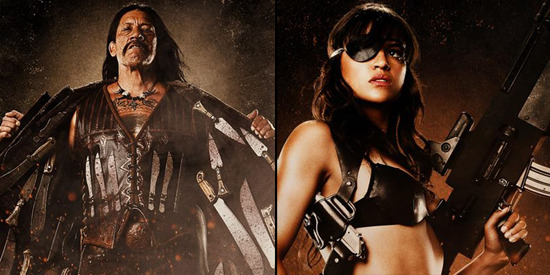 Machete won't be the last time you see Danny Trejo and Michelle Rodriguez working together. The two will be on screen in an indie called Skinny Dip that will likely be produced and co-directed by Trejo's son Gilbert Trejo. The other co-director will be Frankie Latina.
What's the film about? The LA Times offers that it would be " a revenge picture involving a young woman who kills a policeman." That's all we've got, but one could expect that Michelle Rodriguez would be the young woman.
After the break, Bryan Cranston is fresh from his Emmy win with a new role.
And then there's The Grief Tourist, which now boasts Bryan Cranson as well as Michael Cudlitz from Southland. A press release (below) announces that Suri Krishnamma will direct from a Frank John Hughes script about Jim Tahana, "a disturbed and troubled soul, [who] retraces the footsteps of serial killers who fascinate him as his hobby.
Sounds like Cranston isn't playing Tahana — the wording of the release makes it sound as if that role goes to Cudlitz — but I'll take anything with Cranston in it at this point, in just about any role.
LOS ANGELES, Aug. 30 /PRNewswire/ — Vision Entertainment Group has partnered with Suzanne De Laurentiis Productions to produce a new mystery thriller titled the "The Grief Tourist."  A disturbed and troubled soul, Jim Tahana, retraces the footsteps of serial killers who fascinate him as his hobby. His dark obsession with past killers soon becomes his reality and leads viewers on a menacing and horrific journey inside his twisted mind.
Cast for the film include Michael Cudlitz, "Southland," "A River Runs Through It," "Grosse Point Blank," "Running Scared," and "The Negotiator" and Emmy Award Winner Bryan Cranston, "Breaking Bad."
Vision Entertainment Group founders and producers Zachery Bryan, "Fast & the Furious: Tokyo Drift," "The Game of their Lives" (opposite Gerard Butler), "Held For Ransom" (opposite Dennis Hopper),and Adam Targum writing/producing credits include Fox's "Standoff," CBS's "Eleventh Hour" and "CSI:NY" as well as the feature film, "The Good Student," team up with Suzanne De Laurentiis   "10th & Wolf,"  "Soul Fire Rising," "I Believe in America," "Shut Up and Kiss Me!" and Michael  Cudlitz to produce the psycho thriller. "The Grief Tourist" is directed by Suri Krishnamma ("A Man of No Importance" and "New Years Day") and written by Frank John Hughes ("Band of Brothers" and "Catch Me if You Can.")