Ryan Reynolds And Bradley Cooper Lined Up To Star In Cop Film Written By Sheldon Turner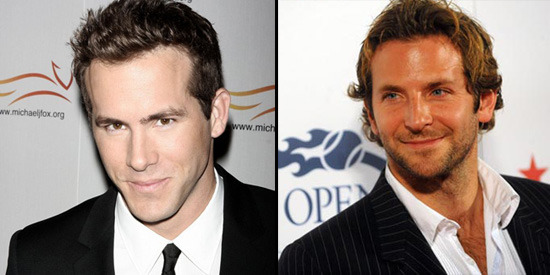 Sheldon Turner may be working on his directorial debut, By Virtue Fall, but he's also selling other ideas to interested parties. Five years ago, Turner and Andrew Panay developed a pitch called Blowback, which was intended to be a Dwayne Johnson film.
Blowback never happened, but it has been reworked by Turner into a currently untitled action comedy intended to have an "updated Lethal Weapon" flavor. And now Ryan Reynolds and Bradley Cooper are set up to star in the project.
says "the story follows two friends, who are also San Francisco cops, whose fathers were once partners on the police force. The older generation is forced out of retirement to help their sons crack a case, with typically antagonistic results."
A studio isn't involved at this point, but Original Film, the company run by producer Neal Moritz, is behind this version, and Original Film is housed at Sony.
I'm always ready for that sort of buddy action comedy that works — hello, Kiss Kiss Bang Bang — but I don't get the idea of casting Reynolds and Cooper opposite one another. They're way to close to being the same guy. The example of Lethal Weapon is right there: you've got Mel Gibson and Danny Glover, and the comedy that arises from the conflict between their personalities and levels of energy.
With Reynolds and Cooper, that contrast is either gone or dramatically lessened. You're already talking about two cops whose fathers were also cops...but then, I haven't read the script yet. You could look at the casting of Kiss Kiss Bang Bang and think that Downey and Kilmer are way too much alike, but that movie works like crazy, because it is written well and they play it perfectly.
And this could just as easily be shuffled around a bit. If Ryan Reynolds does everything that's already said to be on his plate (Green Lantern sequels, Deadpool, R.I.P.D., Safe House with Denzel Washington) then he'll be rather busy for a while.