Rumors: Joe Carnahan, David Yates And James McTeigue Being Considered For 'Fantastic Four' Reboot? Bruce Willis Wanted To Voice The Thing?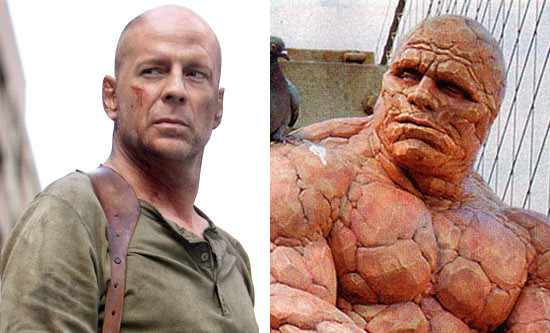 Fox isn't going to begin production on their Fantastic Four reboot until after X-Men: First Class is completed, but that's not stopping them from looking at various actors and directors to come on board. First there were rumors of the studio pursuing Adrien Brody and Amber Heard to star in the film, and now even more rumored possibilities have come to light, revealing the film's directorial candidates, as well as who Fox wants to voice The Thing (who will be an entirely CGI creation this time around).
Comic Book Movie is reporting that the three directors Fox is considering for the film are Joe Carnahan (The A-Team, Smokin' Aces), David Yates (Harry Potter and the Order of the Phoenix through Deathly Hallows) and James McTeigue (Ninja Assassin, V for Vendetta). One of the trio will be given an offer shortly.
Not much common ground amidst this talented but weirdly incongruous filmmaker round-up. I'm not against the selections, but hearing the names lumped together makes me wonder what sort of stylistic take on the material Fox is hoping for with their reboot.
And let's be clear: who the studio wants to helm the film is one thing; whether or not those directors want to helm the film is another. If any of these guys ended up directing the film, I'd be genuinely surprised. Based on their prior work, a Fantastic Four film just doesn't seem like something that they'd be interested in having on their filmographies.
Comic Book Movie also claims that Fox is interested in having Bruce Willis voice The Thing, as well as appear briefly in human form during the beginning of the film.
Willis looks the part, no doubt. That may sound inconsequential considering his performance would be determined primarily by CGI animators (the possibility of motion capture notwithstanding), but having a recognizable face to go with the voice would, I'd imagine, make it easier for audiences to perceive that animated figure as being an actual person.
Between Willis and Brody, this is a Fantastic Four team I could get behind.