Terrence Malick's Next Auditioning This Weekend, Now Shooting In Sept?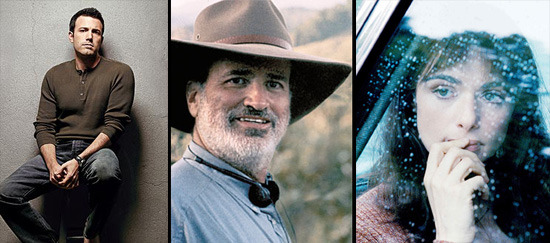 Briefly: We've now got three Terrence Malick mysteries to ponder. First is the release date for The Tree of Life, his completed (we think) film that may or may not open by the end of this year. The second is the fate of Voyage of Time, the IMAX doc that was said to be a companion to The Tree of Life, and about which we've heard nothing in months.
And then there's Malick's next film, for which we currently do not have a title. But we do have a cast: Ben Affleck, Rachel Weisz, Javier Bardem, Olga Kurylenko and Rachel McAdams. And we know that it is a love story, of sorts.
We also know the Untitled Terrence Malick Romance is gearing up to shoot in Oklahoma this fall. Now a report in Tulsa World says that producer Nicolas Gonda recently attended a community forum to discuss "filming [in Bartlesville, OK] as early as next month." The report also says that auditions are being held this weekend in Bartlesville. Yep, this is a minor update, but that's how it works with Malick. If you live in or around Bartlesville and get any more info, please consider sharing.
[via Awards Daily]