Kung Fu Panda Screenwriters Hired For Karate Kid Sequel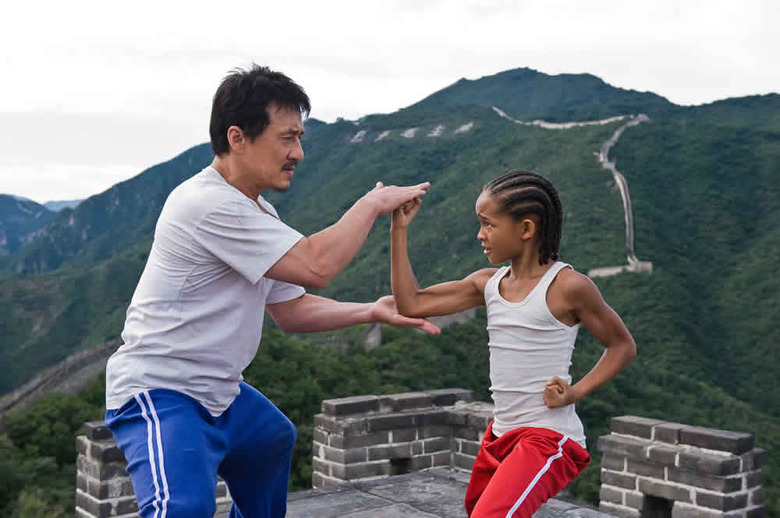 Shortly after The Karate Kid was released in theaters, earning $56 million opening weekend (well surpassing expectations), it was announced that they were going to begin development on a sequel. Columbia Pictures executives have been meeting with screenwriters to pitch their ideas on a sequel. Tonight HeatVision is reporting that screenwriters Cyrus Voris and Ethan Reif, who wrote Kung Fu Panda for Dreamworks Animation, have been tapped to pen the follow-up.
It seems logical to me. This one followed the storyline of the original beat by beat, the second film needs to take the Karate Kid and his teacher to Asia... oh wait... they already did that? The Hollywood Reporter suggests that the sequel could reverse mirror the original by taking the story back to the United States. To me that doesn't present many story possibilities, aside from comic relief moments of a fish out of water Chan in America. Ugh... Zwart has said that he would prefer to do an all-new story rather than remake one of the existing Karate Kid sequels.
I personally think it's now so much on its own two feet, given the success, that it would be interesting to see where we could take it without ever thinking about the old ones.
Not that there are any particular plans in mind at the moment.
Every now and then we discussed it...But the truth is, when you see Jackie and Jaden, they're like a really good film couple. On and off camera, I was watching how they were pulling practical jokes on each other and throwing rocks in the lake, and you just want to keep looking at them because they have a great dynamic and great humor. We have just been playing with a few different ideas, but we haven't landed on anything at the moment.
I expect both Will Smith's son Jaden Smith and Jackie Chan will return for the follow-up, although no deals are signed. Voris and Reif have also worked on television series such as Brimstone, Sleeper Cell, Eleventh Hour and films like Men of War, Tales from the Crypt: Demon Knight, Bullerproof Monk, and most recently — Ridley Scott's Robin Hood.