Buried At Fantastic Fest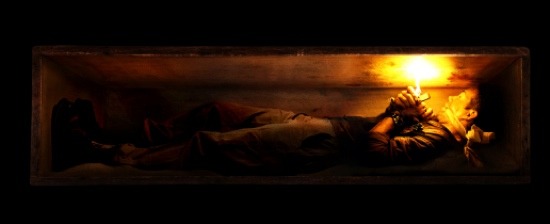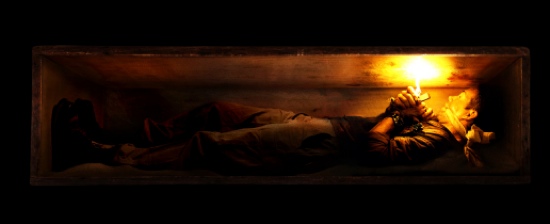 Fantastic Fest has announced a new Gala Screening for the film Buried, with both star Ryan Reynolds and director Rodrigo Cortes in attendance. And because the Alamo Drafthouse must top themselves with the most unique movie-going experiences known to man, that have announced the first ever "Buried with Buried: Rolling Roadshow of One" where 4 participants will be buried while seeing Buried. 4 people will be chosen at random for the stunt from the Facebook event RSVP page. Read the full press release after the jump.
****FOR IMMEDIATE RELEASE****
FANTASTIC FEST ANNOUNCES GALA SCREENING OF LIONSGATE'S "BURIED" WITH RYAN REYNOLDS AND DIRECTOR RODRIGO CORTÉS IN ATTENDANCEFour Lucky Winners Who Survive the "Buried with Buried: Rolling Roadshow of One" to Attend Gala
Austin, TX—Wednesday, August 25, 2010— Fantastic Fest will host a Gala Screening of Buried at The Paramount Theatre on Thursday, September 23, with Ryan Reynolds and director Rodrigo Cortés in attendance, as part of their opening night programming of the festival.
Buried, which Lionsgate will release in select theaters on September 24th and wide on October 8th, stars Reynolds as a truck driver and family man who wakes up six feet underground with no idea of who put him there or why. Buried with only a cell phone and a lighter, his contact with the outside world and ability to piece together clues that could help him discover his location are maddeningly limited.
"Buried is the most unique and compelling thriller I have seen in years. The festival is honored to screen what we feel is going to be the 'buzz' film of the season," said Fantastic Fest co-founder Tim League.
In celebration of the much buzzed about film, Fantastic Fest will also present the film as part of their "Rolling Roadshow" screening series the weekend prior to the opening of the festival. The unprecedented "Rolling Roadshow of One" goes beyond the bounds of sanity by enlisting four souls to view the entire film while buried! The Rolling Roadshow is the Alamo Drafthouse's nationwide tour of famous movies in famous places. Previous screenings have included Close Encounters of the Third Kind at Devil's Tower in Wyoming, Escape from Alcatraz on Alcatraz Island and more recently The Blues Brothers at Old Joliet Prison.
"The Rolling Roadshow is all about finding that unique film viewing experience with the perfect combination of movie and setting. It's traditionally been a communal experience of seeing a film outdoors with hundreds of people. But for this event, we're putting an even cooler twist on the concept, because some movies are perfect for seeing while buried," said Fantastic Fest co-founder Tim League.
Fantastic Fest has scoured the globe for the very best in action, horror, science fiction, fantasy to the truly bizarre in contemporary cinema for your viewing pleasure. Look for more announcements in the weeks to come, including information on our gala events, parties and AMD Next Wave filmmakers in attendance.
Fantastic Fest is the film festival with the boring parts cut out. Miss this one and your regrets will agonize you for years to come. You have been warned.
Buried is a Versus Entertainment production in association with The Safran Company and Dark Trick Films, a Rodrigo Cortés film.
For more information on the film, visit the Buried official site.
For photos of the announced films, visit the Fantastic Fest press site.
For the latest developments visit the Fantastic Fest Facebook & Twitter.
About Fantastic Fest
Dubbed "The Geek Telluride" by showbiz bible Variety, Fantastic Fest is also known as the "Comic Con of film festivals." Fantastic Fest is the largest genre film festival in the United States, showcasing eight days of offbeat cinema from independents, international filmmakers and major Hollywood studios. The 2009 edition hosted over 70 world, U.S. and regional premieres of the latest sci-fi, horror, fantasy and cult films from around the world.
Our Partners
IFC is a significant media partner in conjunction with regional media partner Time Warner Cable. KXAN Austin News (NBC) and The CW Austin (CW) are our network television partners. Dell and AMD are teamed up to support the Next Wave Filmmakers Competition at Fantastic Fest. Presenting sponsor Ambhar Tequila is the official tequila of Fantastic Fest. FEARnet has come on board as a Presenting Sponsor, while HitFix and Radisson are Title Sponsors. Other sponsors include Anchor Bay Entertainment, Dark Sky Films, Embassy Suites, Maxwell Locke & Ritter, Sony Pictures Home Entertainment, Texas Film Commission and Whole Foods. Media partners include Ain't It Cool News, Austin Chronicle, 101X FM, The Onion, Chud, Fangoria, Moving Pictures and Twitch.
About Alamo Drafthouse
The Alamo Drafthouse is a lifestyle entertainment brand with an acclaimed cinema-eatery, the largest genre film festival in the United Sates and an online collectible art store. Named "the best theater in America" by Entertainment Weekly, the Alamo Drafthouse Cinema has built a reputation as a movie lover's oasis not only by combining food and drink service with the movie-going experience, but also introducing unique programming and high-profile, star studded special events. Alamo Drafthouse Founder & CEO, Tim League, created Fantastic Fest, a world renowned film festival dubbed "The Geek Telluride" by Variety. Also regarded as the "Comic Con of film festivals" Fantastic Fest showcases eight days of offbeat cinema from independents, international filmmakers and major Hollywood Studios. The Alamo Drafthouse's collectible art boutique, Mondo, offers breathtaking, original products featuring designs from world-famous artists based on licenses for popular TV and Movie properties including Star Wars, Star Trek & Universal Monsters. The Alamo Drafthouse Cinema is currently planning to expand its theaters and unique programming philosophy to additional markets across the United States.