Casting Notes: Topher Grace, Paul Rudd, And Kristen Wiig In 'Bobby Blue Sky'; Carla Gugino In 'MILF'; Angelina Jolie In Bosnian War Romance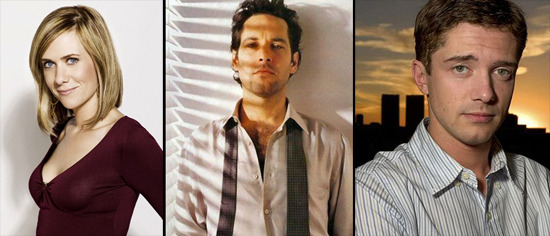 Brief details on this first one: Topher Grace, Paul Rudd, and Kristen Wiig are reportedly set for the indie comedy Bobby Blue Sky, written by Parks and Recreation's Emily Kapnek. The film is about "three dysfunctional siblings coming to terms with the way their baby brother's accidental fame as a character in their father's children's book series warped their lives." I can get behind that. [Pajiba]
After the break, Carla Gugino is ready to play the title role in a slightly misleadingly-monikered movie, and Angelina Jolie gets serious about love and war.
And then there's Carla Gugino, reportedly ready to sign on the dotted line for a role in MILF — that being Mothers I'd Like to Fight. OK, we can see where this one is going. Talk amongst yourselves in the comments, but I think we can all predict how the conversation is going to run.
P2 director Franck Khalfoun is set to direct with Alexandre Aja (Piranha 3D, High Tension) producing. The film is described as "a revenge story about a woman who, recently released from prison, returns to the street to take care of some unfinished business." [LAT]
Finally, on a completely different note, Angelina Jolie says that she'll soon work on a love story set during the Bosnian War waged from 1992 to 1995. Jolie issued a statement via the United Nations High Commissioner for Refugees, saying that the film would shoot this fall about "a couple who meet on the eve of the war and the effect it has on their relationship."
The statement also said "the film is a love story, not a political statement" and that the cast would feature Bosnian and Serbian actors. [Reuters]