Movie Trailer: The Long-Delayed 'Case 39'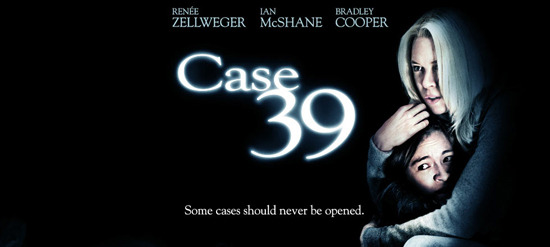 If the trailer for Case 39 looks like a time capsule, that's because it is. The film was shot in 2006, at a point when it looked more weird to see Bradley Cooper in a leading role, and less weird to see Renee Zellweger onscreen at all. Now the film is finally close to being released, on October 10, and so there's an all-new trailer for the rather old film.
OK, no, four years doesn't count as 'rather old,' but the J-horror tendencies on display here do make the film look way out of date. By late 2006 that wave of films was already ebbing, and seeing this trailer now, Case 39 looks way out of date. I do like seeing a 'new' look at pre-Hangover Bradley Cooper, though I could just go back to Midnight Meat Train if I really wanted a Cooper horror time capsule.
The official synopsis:
In CASE 39, family services social worker Emily Jenkins (Renée Zellweger) thinks she has seen it all... until she meets 10-year old Lilith Sullivan (Jodelle Ferland) and the child's cruel and dangerous parents. Her worst fears are confirmed when the parents try to harm Lily, their only daughter. Frightened for her life, Emily enlists the help of Detective Mike Barron (Ian McShane) and takes Lily in while she continues the search for the perfect foster family. Just as it seems as though Lily is on her way to a more loving home, under the guidance of Emily and psychiatrist (Bradley Cooper), dark forces surrounding this young girl come to light and, little do they know, their attempts to protect her will only bring on greater horror...
Watch the trailer in HD at Apple. New trailer is the first embed. After that is the older one that we ran back in 2009.