Sam Worthington Confirmed To Star In Alex Proyas' Dracula: Year Zero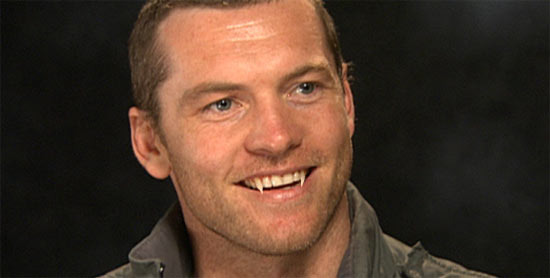 In early 2010, it was discovered that Sam Worthington was in talks to star in Alex Proyas' long gestating Dracula origin story, fittingly titled Dracula: Year Zero. Now we have confirmation of this casting, and have also learned that the film plans to be shot in June 2011. To learn more about what's planned for the production, hit the break.
The news comes from Encore, but the article has since been removed for legal reasons (here's a mirror). Universal Pictures managing director Mike Baard, who was responsible for confirming the news in the first place, requested that all news relating to the film be taken down: "I would ask please that all reporting of our presentation be removed from your website with immediate effect and that no reference is made to it in any future publication of Encore Magazine or on your website. Universal Pictures reserves its rights in this matter."
The film is going to be shooting in Australia, and Encore is an Australian movie website, so perhaps Baard is worried about how much behind-the-scenes access the site will have to the production, and is trying to nip all potential revelations in the bud right now. Either that, or they're just picking on 'the little guy'.
In any case, Collider confirms that Sam Worthington is attached to star in the film, so we can at least rest easy about the validity of the story.
As much as I'm not a fan of Sam "the human movie prop" Worthington, I was one of the few supporters of Alex Proyas' most recent film, the ambitious doomsday picture Knowing. Others may have lost faith in the director who once brought us The Crow and Dark City, but I have not. And having heard many times over that Worthington was at one point seen as a talented actor due to his work in numerous Australian productions, I look forward to seeing if Proyas can coax another solid performance out of him to prove it.
Regardless, Worthington's questionable acting ability doesn't appear to be a deterrent for anybody in Hollywood. He's already set to star in a ton of films over the next few years, including Clash of the Titans 2, Avatar 2, Dan Dare, Pilot of the Future, Quartermain, and plenty more. The man's a working machine.
Previously this year, Alex Proyas explained what appealed to him about the project:
Why I'm so intrigued by this story... is that this script has such an interesting and original take on this character. It's all about how Vlad of Transylvania became this creature; the choices that he made to make him into this tragic character. It's so intriguing to me, to approach this as a character study on a huge, epic canvas.
And in an interview with Collider, producer Mike De Luca expanded on the story:
...these writers came up with the ingenious-what I think is ingenious-approach combining historical Dracula with Bram Stoker's Dracula. So it chronicles the efforts of a young prince, Vlad of Transylvania trying to keep the Ottoman empire and the Turk's of the time from using his small country as a stepping stone to invade Europe. So there's a historical basis for all of that history that's in the script, but when his back is up against the wall and he can't figure out how to keep the Turkish army out of his country and keep their hands off his country's children, which they want to kidnap and press into their army as something they used to call the Jannisserie core, I guess the Roman's did a version of it also, but this taking of male children from host countries and pressing them into military service for the invading army is another thing he's trying to prevent. Because his own son is being threatened with that kidnapping. And in the script that we have, he was actually a victim of it himself. He earned the reputation of being the impaler while he was serving the Turks.
To check out the rest of what De Luca had to say, head on over to Collider.