James Bond Screenwriters Hired To Pen Action Thriller Set In West Africa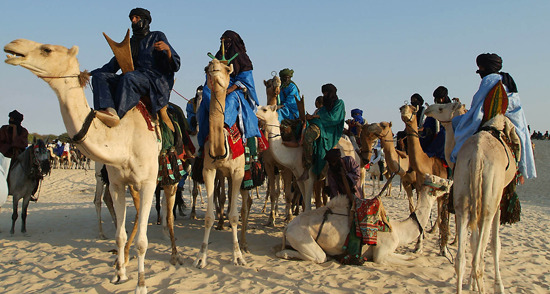 In the absence of any news on the James Bond front, take this story as a substitute: Neal Purvis and Robert Wade, who wrote Casino Royale and Quantum of Solace, have been hired to write an original action thriller that might have vague Bond-like overtones. It also has a more serious, political bent, which could make for an interesting combination.
THR says that Parkes MacDonald/Imagenation hired Purvis and Wade to write the script based on a story by Michael Lieber and Walter Parkes. As the trade says,
The story takes place among the nomadic Tuareg tribes of West Africa, an area rich with uranium that has become a focal point for both energy companies and terrorist states. An American anthropologist is thrust into this geopolitical mess when he must travel back to the Sahara to help a former research subject who has been accused of a terrorist attack.
Parkes said, "At its heart, this is an action movie set within a world that is morally complex, alluring and completely real," which puts the movie far out of Bond territory. Conceptually, at least.
In addition to writing Bond, Purvis and Wade have also adapted John Le Carré, an author whose work is much more based in reality than any Bond material ever was. So that's a pointer that they might be a good fit for the story. (Le Carré recently recalled comments he made about Bond in the '60s, when he dismissed the character because "He's a man entirely out of the political context. It's of no interest to Bond who, for instance, is president of the United States or of the Union of Soviet Republics.)
But this isn't really about Bond or Le Carré, and with the story described above, I'd expect to see a film come out of this script that treads the line between them.
[image above shows a Tuareg gathering]