This Week In DVD & Blu-Ray: The Good The Bad The Weird, Cemetery Junction, Dexter (Season 4), And More
We may receive a commission on purchases made from links.
This Week in DVD & Blu-ray is a column that compiles all the latest info regarding new DVD and Blu-ray releases, sales, and exclusive deals from stores including Target, Best Buy and Fry's.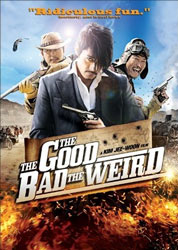 THE GOOD, THE BAD, THE WEIRD
For those that have been disappointed with the recent summer action blockbuster slate, consider The Good, The Bad, The Weird the antidote. The film is a Korean tribute to spaghetti westerns, set into motion by a classic MacGuffin: a treasure map. Three strange dudes go after the treasure, and chaos ensues. It's a simple, unchallenging format—but holy hell is it a load of fun. The film offers just the right blend of old school style and off-the-wall Korean humor, and the action set pieces are as creative as they are brilliantly choreographed. So often we're forced to endure an incomprehensible flurry of trashing limbs and nightmarish editing, but The Good, The Bad, The Weird keeps its action grounded by setting the stage early, and always letting you know where the characters are as they violently pummel through it.
Available on Blu-ray? Yes.
Notable Extras: DVD & Blu-ray – Cannes highlights and a making-of featurette.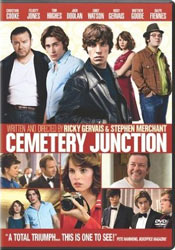 CEMETERY JUNCTION
I've been eagerly awaiting the first feature effort from writing-directing duo Ricky Gervais and Stephen Merchant (creators of The Office and Extras) for over a year now, and was starting to wonder why I hadn't heard a single thing about its release. Lo and behold, the reason has been made clear: it's been dumped straight-to-DVD. Does this mean the film is awful? Not at all—it's actually a fairly pleasurable, feel-good coming-of-age '70s dramedy, but I can see why it hasn't been making waves. Cemetery Junction is pure formula, firmly locked into one of the most predictable trajectories of any recent film I've seen. Literally every subplot plays out exactly as you might expect, and while there's never a dull moment—Gervais and Merchant are talented writers, after all, and they proved with the series specials for The Office and Extras that they have a knack for balancing crude humor and heartfelt sentimentality without feeling too cornball—the movie just feels too bluntly familiar to leave much of a lasting impression.
Available on Blu-ray? Yes.
Notable Extras: DVD – Commentary with writers/directors Ricky Gervais and Stephen Merchant, a cast commmentary with Christian Cooke, Tom Hughes, and Jack Doolan, deleted scenes, and 2 featurettes ("The Directors: A Conversation with Ricky Gervais and Stephen Merchant", "The Lads Look Back: The Stars Discuss Cemetery Junction"). Blu-ray – Includes everything on the DVD, as well as additional featurettes ("Seventies Style: Production and Costume Design", "Snow Dude", "The Start of Filming", "Week 1", "Meet The Boys", "The Directors On Set").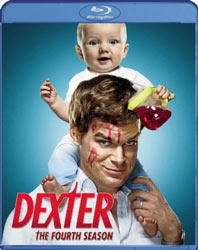 DEXTER (SEASON 4)
Start soft, end hard. Not just an admission of what happens every time I think about Julie Benz, this motto also describes what's become the method to Dexter's beguiling madness—a formula that has served it well on each of its seasonal outings. Season 4 serviceably continues this trend, effectively building up the presence of John Lithgow as the Trinity Killer to provide this round of serial killer madness just the right edge the series needed to stay interesting. Sadly, this storyline is counteracted by the listless, irrelevant romance between Laguerta and Batista, for which at least 10 minutes are devoted to per episode. As much as I appreciate the show killing two birds with one stone by combining the subplots of a couple of the show's many dull side characters, the sad reality is that all of their scenes have now reached an apex of boredom, frequently resulting in agonizing lulls in the narrative. The other problem I have with this season is the ending. While I love the finale for what direction it promises to take the series in its next season, I wish it had managed to find a more consistent, organic way to incorporate its surprising final moments. As is, it merely serves as a forced attempt to bring about a sense of thematic coherence to the forefront—as well as of course shock value.
Available on Blu-ray? Yes.
Notable Extras: DVD & Blu-ray – Californication (Season 3: Episodes 1 and 2), Lock 'N Load (Season 1: Episode 1), The Tudors (Season 4: Episode 1), The Tudors (Season 4: Episode 2).
EXCLUSIVE DEAL:
What? Includes bonus disc with 40 minutes of extra content.
Where? Best Buy.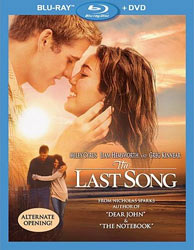 THE LAST SONG
It doesn't matter how I feel about the latest manipulative, nonsense romance from tear-jerker/story recycler Nicholas Sparks, since I'm obviously not the audience for it, but even so, any movie that forces Greg Kinnear to act under Miley Cyrus should burn in an eternal hellfire.
Available on Blu-ray? Yes.
Notable Extras: DVD – Set Tour with Bobby Coleman, the Miley Cyrus Music Video: "When I Look At You", and a Making of the Music Video featurette. Blu-ray – Includes everything on the DVD, as well as a commentary with director Julie Anne Robinson and co-producer Jennifer Gibgot, an Alternate Opening Sequence: The Church Fire, and 5 deleted scenes.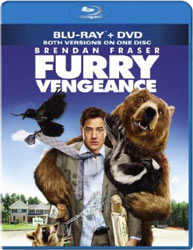 FURRY VENGEANCE
Based on the cover I thought this movie was about Brendan Fraser being raped by a bear, but upon viewing the trailer I discovered that it's actually about us being metaphorically raped through interminable scenes of Brendan Fraser getting hit in the dick and covered in feces and engulfed in skunk anal spray. This realization was disappointing for me, since I was quite looking forward to the bear rape. Oh well; at least we still have Yogi Bear.
Available on Blu-ray? Yes.
Notable Extras: DVD & Blu-ray – An audio commentary with director and cast, deleted scenes, 2 featurettes ("The Pitfalls of Pratfalls", "Working with Animals"), and a gag reel.
Other noteworthy DVD (and Blu-ray) releases this week...
Temple Grandin – The City of Your Final Destination [DVD / Blu-ray] – Friday Night Lights (Season 4) – Cougar Town (Season 1) – Black Orpheus (Criterion Collection) [DVD / Blu-ray] – L'enfance Nue (Criterion Collection)
Noteworthy Blu-ray-specific releases this week...

NOTES: Some deals may be in-store only. All deals are for DVDs unless otherwise noted.

Exclusive Release: Me & Orson Welles, directed by Richard Linklater and starring Zac Efron and Claire Danes.
$19.99 – Chuck (Season 1 – 2), Entourage (Season 1, 5 or 6)
$9.99 – Blu-ray sale: Law Abiding Citizen, King Kong, The Kingdom, Terminator 3, Interview with the Vampire

$5.99 DVD or $9.99 Blu-ray – Crank 2, First Blood, Terminator 2, The Bank Job, Transporter 3

$9.99 – Blu-ray sale: Behind Enemy Lines, Dude Where's My Car?, Flight of the Phoenix