Brooklyn Decker Scores A Role In Battleship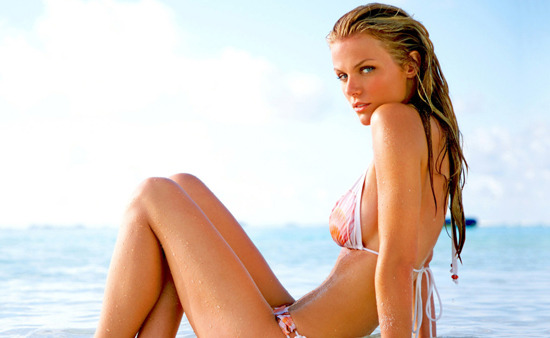 Briefly: Review, if you will, the cast of Peter Berg's Battleship as we know it so far. There's Taylor Kitsch (Friday Night Lights, Wolverine) in the lead as Alex Hopper, the Commanding Officer of a destroyer who is in charge of a team of five trusted shipmates. (Which resportedly include the XO, a female Japanese commander, and a Scotty-like chief engineer.) Alexander Skarsgard plays his brother, "a straight and narrow naval officer whom Kitsch, a wildly spirited naval officer, idolizes. And there's Rhianna and perhaps Tom Arnold.
Now Victoria's Secret model Brooklyn Decker, who may be one of the few people less likely than Rhianna to be found on a battleship, is signed on for Berg's humans vs aliens tentpole. We don't know much about who she'll play — in fact, we know almost nothing at all. Latino Review had the casting scoop and Deadline offers that she'll be "the love interest of Kitsch's naval officer character." Since Brian Koppelman and David Levien are writing the current draft, it's possible that some of the above details have changed slightly. But the film is scheduled to shoot in September, so we'll probably know a lot more soon.