Movie Trailer #2: 'Monsters', By Gareth Edwards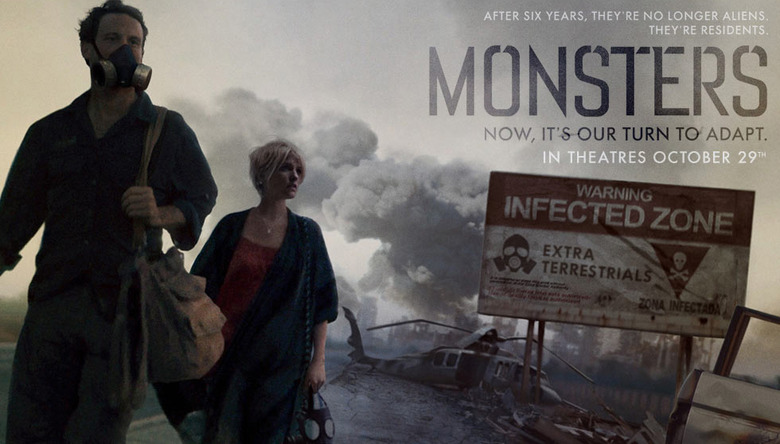 Magnolia Pictures/Magnet have released the second trailer for Gareth Edwards' new low budget monster movie Monsters, and thankfully it doesn't seem to give too much away. If you're taking my approach to the film and trying to see as little as possible, it looks like you'll be safe watching this trailer.
Edwards reportedly made the film for a shockingly low sum (well under $100,000) and despite that, the film looks great. There isn't a lot of Cloverfield shaky-cam in evidence, and what few effects are glimpsed here look like they work quite well. More important, those who've seen the film emphasize that it's a much more character-based piece than some of the marketing has implied so far. Check our first trailer post for a bit more info on the film, and if you're really curious to know more, see Peter's review from this year's Cannes fest.
Six years ago NASA discovered the possibility of alien life within our solar system. A probe was launched to collect samples, but crashed upon re-entry over Central America. Soon after, new life form began to appear and half of Mexico was quarantined as an INFECTED ZONE. Today, the American and Mexican military still struggle to contain "the creatures"...... Our story begins when a US journalist agrees to escort a shaken tourist through the infected zone in Mexico to the safety of the US border.
Magnolia Pictures' genre arm Magnet will release the movie on demand on September 24, then in New York and Los Angeles on October 29th 2010.
See the trailer in HD at Apple.