Rooney Mara Cast As Lisbeth Salander In 'The Girl With The Dragon Tattoo'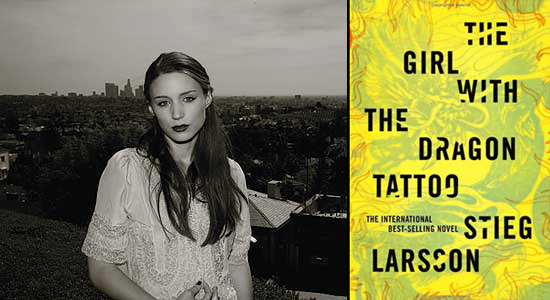 Well, so much for casting a total unknown as the central female character in the David Fincher adaptation of Stieg Larsson's series of 'Milennium' novels. Ending a long casting search rife with rumor and speculation, Rooney Mara, of The Social Network and A Nightmare on Elm Street, has been given the part of Lisbeth Salander.
Deadline says that Mara had the advantage of having worked with Fincher on The Social Network, where she impressed he and Sony. She'll also provisionally play the role in planned sequels The Girl Who Played With Fire and The Girl Who Kicked the Hornet's Nest, which Fincher may or may not direct. (Sony wants him to direct; whether he will or not remains to be seen.)
Mara joins a cast that includes Daniel Craig as Mikael Blomkvist; and the in-talks Robin Wright as Erika Berger and Stellan Skarsgard as Martin Vanger.
So far, Mara is relatively under-exposed. Her biggest role to date has been as the 'new Nancy' in the A Nightmare on Elm Street remake, in which she was certainly fine, if not exceptional. (It's a far from exceptional movie, so there's a lot of slack to be cut there.) She's said to be great in The Social Network, but trailers so far have concentrated on characters played by Andrew Garfield, Jesse Eisenberg and Justin Timberlake. Hard to get any real sense there.
David Fincher is set to shoot Steve Zaillian's script of The Girl With the Dragon Tattoo in Sweden starting next month. With The Social Network just wrapped, that's got to be the quickest turnaround in his career. We know that Fincher has wanted an actress that could get a handle on a Swedish accent (that is, speaking Swedish-accented English, one would assume) so I'm curious to hear and see Mara's work. And we still don't know a lot about Zaillian's script. The original Swedish film based on Larsson's novel pushed actress Noomi Rapace pretty far, and we don't know how Fincher will handle the film's more violent (and sexually violent) scenes. But Sony's Amy Pascal said,
We're doing the book. That's why we hired David Fincher. We're going to really do this, in all their glory. Otherwise why do it? They're very R-rated movies. It's the shock of what's really going on underneath the surface of society. If you don't actually make good on that, you haven't told the story.