'Hereafter' By Clint Eastwood Will Close The New York Film Festival; More Films Announced For NYFF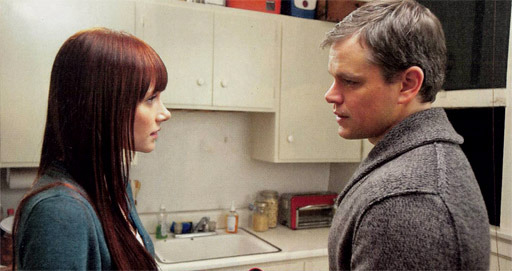 Clint Eastwood's upcoming Hereafter, starring Matt Damon, is now slated to close this year's installment of the New York Film Festival. David Fincher's The Social Network is opening the fest and Julie Taymor's The Tempest is another of the big films; new additions to the program include Certified Copy, We Are What We Are (the 'Mexican cannibal movie'), Another Year and Meek's Cutoff. That is, most of the big Cannes films are in the fest, including Palme d'Or winner Uncle Boonmee Who Can Recall His Past Lives.
Hereafter is written by Peter Morgan and features Damon as a reluctant psychic dealing with issues with his girlfriend (Bryce Dallas Howard) while Cecile De France plays a TV journalist who has a near-death experience during the 2004 tsunami. Their lives all come together along with a young boy dealing with the death of his twin brother. Early reports pegged it as a more supernatural film than it really seems to be. Rather, the movie is about loss and grief, and Eastwood has called it his 'chick flick.'
After the break, the entire NYFF program as it currently stands.
Opening Night
The Social Network
David Fincher, 2010, USA, 120 min
Centerpiece
The Tempest
Julie Taymor, 2010, USA, 110 min
Closing Night
Hereafter
Clint Eastwood, 2010, USA, 126 min
Official Lineup
Another Year
Mike Leigh, 2010, UK
Aurora
Cristi Puiu, 2010, Romania
Black Venus (Venus noire)
Abdellatif Kechiche, France
Carlos
Olivier Assayas, 2010, France
Certified Copy (Copie conformé)
Abbas Kiarostami, 2010, France/Italy
Film Socialisme
Jean-Luc Godard, 2010, Switzerland
Inside Job
Charles Ferguson, 2010, USA
Le Quattro Volte
Michelangelo Frammartino, 2010, Italy
Lennon NYC
Michael Epstein, 2010, USA
Meek's Cutoff
Kelly Reichardt, 2010, USA
My Joy (Schastye moe)
Sergei Loznitsa, 2010, Ukraine/Germany
Mysteries of Lisbon (Misterios de Lisboa)
Raul Ruiz, Portugal/France
Of Gods and Men (Des homes et des dieux)
Xavier Beauvois, 2010 France
Oki's Movie (Ok hui ui yeonghwa)
Hong Sang-soo, 2010, South Korea
Old Cats (Gatos viejos)
Sebastian Silva, 2010, Chile
Poetry (Shi)
Lee Chang-dong, 2010, South Korea
Post Mortem
Pablo Larrain, 2010, Chile/Mexico/Germany
Revolucion
Mariana Chenillo, Fernando Embecke, Amat Escalante, Gael Garcia
Bernal, Rodrigo Garcia, Diego Luna, Gerardo Naranjo, Rodrigo Plá, Carlos Reygadas, Patricia Riggen, 2010, Mexico
The Robber (Der Räuber)
Benjamin Heisenberg, Austria/Germany
Robinson in Ruins
Patrick Keiller, 2010, UK
Silent Souls (Ovsyanki)
Alexei Fedorchenko, Russia
The Strange Case of Angelica (O estranho caso de Angélica)
Manoel de Oliveira, Portugal
Tuesday After Christmas (Marti, dupa craciun)
Radu Muntean, Romania
Uncle Boonmee Who Can Recall Past Lives (Lung Boonmee raluek chat),
Apichatpong Weerasethakul, 2010, UK/Thailand
We Are What We Are (Somos lo que hay)
Jorge Michel Grau, Mexico