Clooney And Jolie To Play Sinatra And Monroe In 'The Life And Opinions Of Maf The Dog'? (Nope!)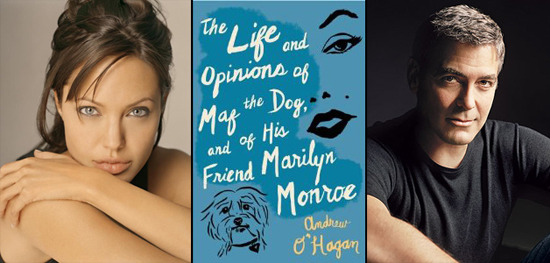 We may receive a commission on purchases made from links.
UPDATE: Shocker — this has been denied as total fabrication by reps for both Angelina Jolie and George Clooney. When the author of a novel 'announces' casting for a film on which he's not a producer, tread lightly. Original article follows.
So Angelina Jolie could be the third major actress to play Marilyn Monroe this year. Jolie and George Clooney are reportedly set to play Monroe and Frank Sinatra in an adaptation of Andrew O'Hagan's novel The Life and Opinions of Maf the Dog. Where did this casting come from?
The Telegraph UK reports that while Scarlett Johansson had briefly been pegged as Monroe in this particular adaptation, author O'Hagen said that Clooney and Jolie are confirmed for the roles. To the best of my knowledge O'Hagan is not a producer on the film, so I'm taking this tale with a bit of caution.
Just two weeks ago O'Hagan talked about the project at a point when Clooney was rumored along with Naomi Watts:
Yes, it's been bought by a film studio, and production is gearing up just now...People just seem to want to take it off the page and make it live, this book, perhaps because there's so much life, so much theatricality and performance already in it.
The novel follows the last two years of Marilyn Monroe's life as seen through the eyes of her pet Maltese terrier, Maf. In doing so, it also looks at key events from the era, and gives a slightly different take on some of the big personalities of the time.
Here's a rundown of the novel, via Amazon:
In November 1960, Frank Sinatra gave Marilyn Monroe a dog. His name was Mafia Honey, or Maf for short. He had an instinct for celebrity. For politics. For psychoanalysis. For literature. For interior decoration. For Liver Treat with a side order of National Biscuits.
Born in the household of Vanessa Bell, brought to the United States by Natalie Wood's mother, given as a Christmas present to Marilyn the winter after she separated from Arthur Miller, Maf offers a keen insight into the world of Hollywood's greatest star. Not to mention a hilarious peek into the brain of an opinionated, well-read, politically scrappy, complex canine hero.
Maf was with Marilyn for the last two years of her life, first in New York, where she mixed with everyone who was anyone—the art dealer Leo Castelli, Lee Strasberg and the Actor's Studio crowd, Upper West Side émigrés—then back to Los Angeles. She took him to meet President Kennedy and to Hollywood restaurants, department stores, and interviews. To Mexico, for her divorce. With style, brilliance, and panache, Andrew O'Hagan has drawn an altogether original portrait of the woman behind the icon, and the dog behind the woman.