Movie Trailer: Love And Other Drugs, With Jake Gyllenhaal And Anne Hathaway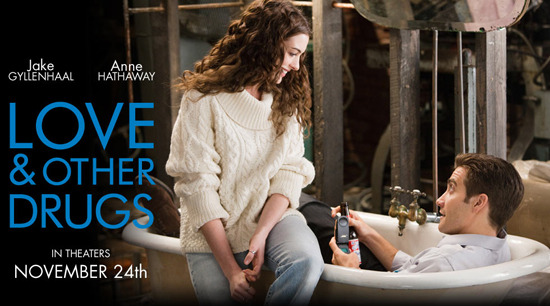 Love and Other Drugs is a romantic comedy, which of late is a genre that tends to be unremarkable. And it is co-written and directed by Ed Zwick who, sadly, tends to make movies that are also unremarkable. That's not two strikes, but it's close. (For me.)
But the film is also a kind of Brokeback Mountain reunion, as it puts Jake Gyllenhaal and Anne Hathaway back in the same cast. That's a selling point (for me, anyway) but I'm not sure that this just-released trailer is.
Apple has the trailer in HD, and I'll let the synopsis below do the big work of recapping the plot. The trailer is all high-watt charm from the two leads, or an attempt to deliver some, at least. But I can't help enjoying Gyllenhaal when he's not running around the orange scenery of Prince of Persia. And I won't even pretend to be resistant to Hathaway when she really tries to turn on the charm, which she certainly does here.
And there's some performance in the trailer that looks as if it goes very slightly above the call of duty for the average romcom, and I can bank on that, too. Maybe.
Here's the synopsis:
Anne Hathaway portrays Maggie, an alluring free spirit who won't let anyone – or anything – tie her down. But she meets her match in Jamie (Gyllenhaal), whose relentless and nearly infallible charm serve him well with the ladies and in the cutthroat world of pharmaceutical sales. Maggie and Jamie's evolving relationship takes them both by surprise, as they find themselves under the influence of the ultimate drug: love.