Scott Pilgrim's Satya Bhabha Will Play The Lead Role In Salman Rushdie's 'Midnight's Children'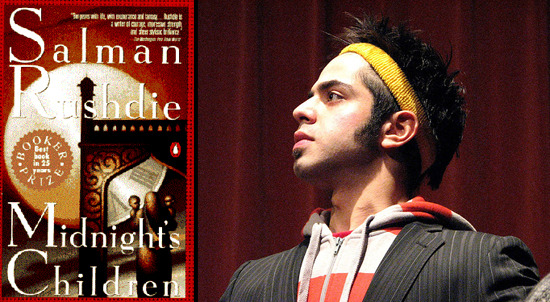 The young actor Satya Bhabha was almost a total unknown a few months ago. Now he's got a highlighted role in Edgar Wright's Scott Pilgrim vs the World, in which he plays the first of the characters that must be defeated by Scott Pilgrim to win the heart of Ramona Flowers.
Bhabha is memorable in Wright's film, but he'll soon have a much bigger role in a long-awaited movie. According to the actor, he's playing Saleem Sinai, the main character in an adaptation of Salman Rushdie's seminal novel Midnight's Children.
The Playlist talked to Bhabha, who said,
"I play Saleem [Sinai] in [Midnight's Children]. I'm learning a little Hindhi and I'll have magical powers in the film as well, it's a theme.
(The latter comment referring to his Pilgrim role.)
Rushdie has been working on the script to Midnight's Children for some time; Toronto filmmaker Deepa Mehta will direct. When I saw Rushdie lecture at Emory University in early 2009, he talked about the developing adaptation, but without going into too much detail about alterations he made to the story and structure to create a script with which he and Mehta are happy.
Rushdie has talked about the nascent adaptation now and again, but this is the first major casting note we've had.
I'm quite interested in the film, as Midnight's Children is a favorite novel of mine. Rushdie is a life-long film fan with very specific ideas about what works on screen and why, but he doesn't seem bogged down in classic film forms; he's got a very contemporary sensibility, and I can't wait to see what he's done to his novel to make it come to life on screen.
Here's a recap of the novel:
Exactly at midnight on Aug. 15, 1947, two boys are born in a Bombay hospital, where they are switched by a nurse. Saleem Sinai, who will be raised by a well-to-do Muslim couple, is actually the illegitimate son of a low-caste Hindu woman and a departing British colonist. Shiva, the son of the Muslim couple, is given to a poor Hindu street performer whose unfaithful wife has died. Saleem represents modern India. When he is 30, he writes his memoir, Midnight's Children. Shiva is destined to be Saleem's enemy as well as India's most honored war hero. This multilayered novel places Saleem in every significant event that occurred on the Indian subcontinent in the 30 years after independence.