Danny Boyle's '127 Hours' To Premiere At Toronto Film Fest, Will Close BFI London Film Fest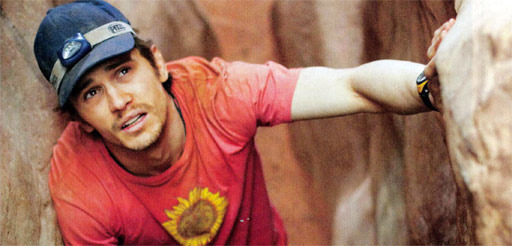 Briefly: We should be seeing a trailer for Danny Boyle's 127 Hours any day now. In just a few weeks, the film will have its world premiere at the Toronto International Film Festival, and then it will close the 54th BFI London Film Festival. (Boyle's Slumdog Millionaire closed the London Fest in 2008.) We don't have a date for the TIFF premiere of 127 Hours, which will screen as a Special Presentation, but the London Film Fest screening date is October 28. The film will open in the US a week later, on November 5.
127 Hours is the true story of mountain climber Aron Ralston's (James Franco) remarkable adventure to save himself after a fallen boulder crashes on his arm and traps him in an isolated canyon in Utah. Over the next five days Ralston examines his life and survives the elements to finally discover he has the courage and the wherewithal to extricate himself by any means necessary, scale a 65 foot wall and hike over eight miles before he is finally rescued. Throughout his journey, Ralston recalls friends, lovers (Clemence Poesy), family, and the two hikers (Amber Tamblyn and Kate Mara) he met before his accident. Will they be the last two people he ever had the chance to meet? A visceral, thrilling story that will take an audience on a never before experienced journey and prove what we can do when we choose life.