Kevin Smith Responds To Seann William Scott Considering 'Goon' Over 'Hit Somebody'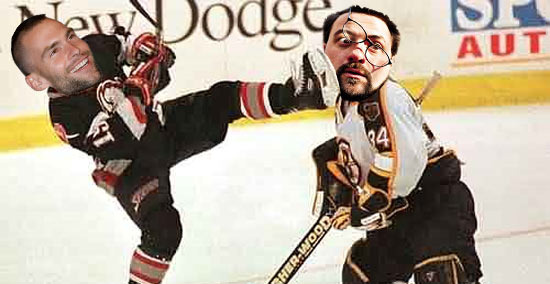 Recently it was announced that Seann William Scott was in line to star alongside Jay Baruchel in the hockey comedy Goon (not to be confused with the David Fincher-produced comic book adaptation The Goon), which is being developed by Baruchel alongside writing collaborator Evan Goldberg. What wasn't clear from the announcement is what sort of conflict the casting might pose for Kevin Smith's hockey comedy Hit Somebody, in which Scott is also meant to star.
Now Smith has responded to the prospective development in a series of tweets, and he doesn't sound too hopeful. Read what he had to say after the break.
The relevant tweets were recapped by News Askew:
Via @artvander "Saw #CopOut. SWS has never been funnier." Made me want to cast him in HIT SOMEBODY. But now he's circling GOON. *sigh*
Via @Film_2_140 "has SWS read HIT SOMEBODY script yet? Is it Near done" No – been a busy month, so still on pg101. Hence he's circling GOON.
Via @Film_2_140 "surprised he's looking at Goon?" Nah: they're ready to roll. HIT's not 'til AFTER RedState – so mid-2011 the earliest.
Via @boomertl "goon and HS are very similar" Not from what I've been told. At all. Besides: the more hockey flicks, the better. #SellTheGame
From that last tweet it sounds like Smith thinks Hit Somebody and Goon can peacefully coexist, but his first tweet suggests he's aware of the impracticality of the same actor starring in two different comedies about hockey within a couple of years of each other. The odds that a studio will give the greenlight to whichever film comes second is unlikely, at least not with Scott attached.
It's a bummer for Smith, since he had been writing the part specifically with Seann William Scott in mind, but like he says, the script isn't even finished yet, and he still has Red State to finish. If Scott's being given the opportunity for a leading role right now, he'd be taking a pretty big risk with his career if he opted to pass it up out of loyalty to Smith. Is it Scott's fault that he's apparently the only comedic actor in the world suited to play a hockey player?
Smith also adds that he won't be appearing in either Red State or Hit Somebody, so those hoping for a cameo from him are out of luck.