Photos: Mark Romanek's 'Never Let Me Go'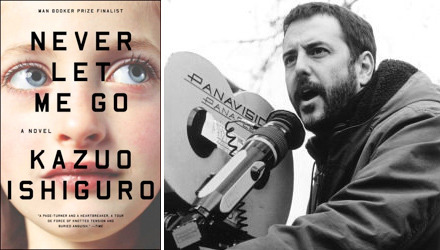 We may receive a commission on purchases made from links.
Fox Searchlight has released a batch of new production photos for Mark Romanek's big screen adaptation of Kazuo Ishiguro's novel Never Let Me Go. The book was named one of TIME's 100 Best Novels (from 1923 to the Present), featured on many top ten books of 2005 lists, and a finalist in the National Book Critic Circle Award. For those interested, you can buy the softcover for only $11.20 on Amazon.
Beach author and 28 Days Later/Sunshine screenwriter Alex Garland penned the adaptation for the dramatic thriller, about a group of children who spent their childhood at a seemingly idyllic English boarding school, who as they "grow into young adults, they find that they have to come to terms with the strength of the love they feel for each other, while preparing themselves for the haunting reality that awaits them." The film stars Carey Mulligan, Keira Knightley, Andrew Garfield, Charlotte Rampling, Sally Hawkins, Nathalie Richard, and Andrea Riseborough. Watch the trailer here. Hit the jump to see the new photos.
Poster:
Romanek is probably best known for his music video work. He directed the video for Michael and Janet Jackson's "Scream" in 1995, a sci-fi themed video which won the 1996 Grammy for Best Music Video, and to date, is still the most expensive music video ever produced ($7 million). His other videos include Closer for Nine Inch Nails, Criminal for Fiona Apple, Devil's Haircut for Beck, and Johnny Cash's cover of Nine Inch Nails' "Hurt".
In 2002, he made a wonderful indie thriller called One Hour Photo, which starred Robin Williams as an photo lab employee who becomes obsessed with a young suburban family (if you haven't seen it, netflix it!). The official plot synopsis follows:
In his highly acclaimed novel NEVER LET ME GO, Kazuo Ishiguro (THE REMAINS OF THE DAY) created a remarkable story of love, loss and hidden truths. In it he posed the fundamental question: What makes us human? Now director Mark Romanek (ONE HOUR PHOTO), writer Alex Garland and DNA Films bring Ishiguro's hauntingly poignant and emotional story to the screen. Kathy (Oscar® nominee Carey Mulligan, AN EDUCATION), Tommy (Andrew Garfield, BOY A, RED RIDING) and Ruth (Oscar® nominee Keira Knightley, PRIDE & PREJUDICE, ATONEMENT) live in a world and a time that feel familiar to us, but are not quite like anything we know. They spend their childhood at Hailsham, a seemingly idyllic English boarding school. When they leave the shelter of the school and the terrible truth of their fate is revealed to them, they must also confront the deep feelings of love, jealousy and betrayal that threaten to pull them apart.
Never Let Me Go hits theaters on September 15h, 2010.