Josh Brolin Reportedly Circling The Jason Reitman And Diablo Cody Film 'Young Adult'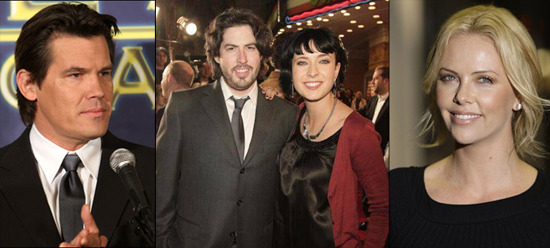 The Juno team of writer Diablo Cody and director Jason Reitman are reuniting for Young Adult, which already has Charlize Theron set to star as a divorced writer who returns to her hometown and forces herself into the life of her married-with-children high school sweetheart.
I already like the sound of that, but if Josh Brolin played the guy Theron is stalking, I'd like it even more.
Roger Friedman says Brolin is circling the male lead in the film. That would give him a chance to play opposite Theron in a film that Cody says, despite some humor, is
pretty serious and fucked up. You don't get to see women be antiheroes that often, where it's like somebody like Mickey Rourke, who gets a comeback in 'The Wrestler.' It's rarer that you'll have a studio say, 'Let's have an actress come back and be ugly!'
We're not talking Monster 'ugly' here — it's ugly in terms of character rather than appearance. And Buddy Slade, the guy Brolin might play, is described as attractive, but a mostly average suburban new dad. He's a little bit soft, and trying to live a pretty normal life. Brolin would work just fine — he's chiseled enough to play into the fact that Theron's character decides to conceive of him as some sort of sensual idol, but talented enough to play the whole range of the script. Hope the deal happens.
Young Adult is in pre-production now and should be shooting by November. There still isn't any studio involvement for distribution, but I'd expect we'll hear news on that front before long. This is too pedigreed a film already, even if it is 'serious and fucked up,' for companies to let it go for long.