Robert Schwentke May Direct Ryan Reynolds In R.I.P.D.; Will Deadpool Fall Prey To Reynolds' Green Lantern Schedule?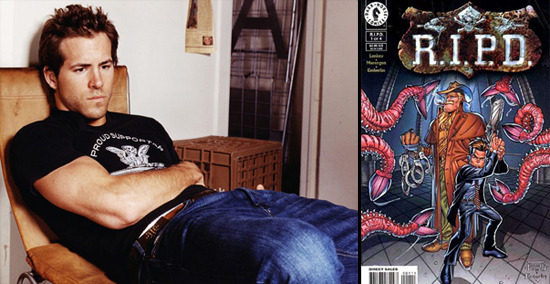 Red director Robert Schwentke is already fielding options for his next film. One that came up earlier this week is the underwater adventure Shadow Divers, but now he's been linked to the Ryan Reynolds film R.I.P.D., based on the Dark Horse comic series of the same name. But how will this one fit into the crowded Reynolds schedule that includes possible Green Lantern sequels and (hopefully, if you're Rob Liefeld) the Fox film Deadpool?
McG was formerly linked to the film, but dumped it to make This Means War. Now the LA Times says that with McG gone, Schwentke, who had been in consideration before, looks like he might be the guy.
Neal Moritz recently described the film to Collider:
It's about two cops, one recently dead and a gunslinger who's been dead for hundreds of years who work on the Rest in Peace department – which is the police department of the dead. And they basically... it takes place on a normal day and it's about trying to keep the dead quiet.
And here's the official synopsis of the comic:
Welcome to the Rest In Peace Department — the devoted, yet dead, officers of divine law enforcement "patrolling the deadbeat...reporting to one boss." Yep — THAT boss. Nick Cruz was murdered by an unknown assailent, at the height of his personal and professional life. Now he's traded a hundred years of service to the R.I.P.D. in exchange for a shot at finding who killed him. Unfortunately his search will take him to Hell and back — literally!
Universal reportedly wants to shoot R.I.P.D. next summer, but that could require some schedule juggling. It looks like Warner Bros. may want to move forward with at least one Green Lantern sequel, which could go into production right after the first film opens next year. Meanwhile, there's Deadpool, for which Fox has yet to hire a director.
Deadpool creator Rob Liefeld is evidently upset that the film based on his character may never happen, thinking that WB wants Reynolds to only be Green Lantern. Liefeld recently tweeted his concern (via Bleeding Cool), saying things such as:
"Warner Bros. just trying to protect their investment. They don't want Ryan Reynolds playing Deadpool AND Green Lantern. Interesting 2 watch"
"Bottom line about Deadpool film is that if FOX doesn't pull the DP film together with Ryan Reynolds between GL films-they should Hari Kari"
But does Liefeld really have any inside info, or is he just concerned? It isn't a leap to surmise that WB might want to keep Reynolds away from other hero projects, but all the talk about second and third Green Lantern films seems very premature.