WTF: Bangladeshi Knock-Off Of The Incredible Hulk Looks Utterly Mad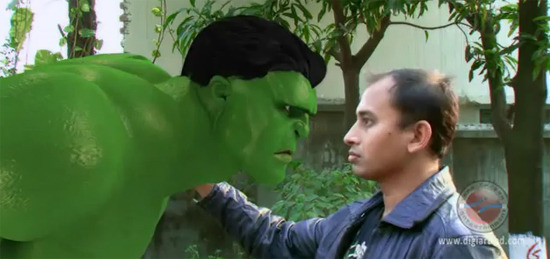 If imitation is the sincerest form of flattery, I still don't know what HALKa might be. This version of The Incredible Hulk comes straight out of Bangladesh, though it appears to have taken a detour through the same Taiwan studio that produces CGI recreations of popular news stories. Watch a trailer for HALKa after the break, and then try to decide if you're happy or sad that our comic book adaptations have gone so big-budget and upscale.
What does the official posting of this trailer on YouTube have to offer? Not much:
TaaR CHeeRA Entertainment Presents... 1st Trailer of "HALKa" The Indie Film....
But when you've got a pantsed, lovelorn scientist, effects straight out of Birdemic, a shiny CGI Hulk (er, Halk) and the energy of Stephen Chow, what more do you need to know? Just watch this, and then tell me where I can import the DVD.
[via Vulture]