New Poster And Images: Julie Taymor's 'The Tempest'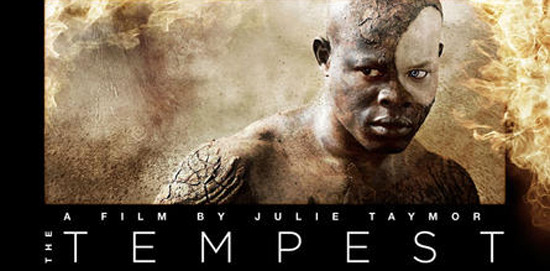 One of the films that was in danger of being orphaned when Disney shuttered Miramax was Julie Taymor's adaptation of the William Shakespeare play The Tempest. But the film, which stars Helen Mirren,  David Strathairn, Djimon Hounsou and more, will be released by Disney offshoot Touchstone Pictures this fall, and will appear at both the Venice and New York Film Festivals.
Now there's a great poster for the film, which only heightens my interest in seeing Taymor go back to Shakespeare with this cast in tow.
I know there is some contention over the value of Taymor's last Shakespeare outing, Titus, but I quite like the film. This appears to me another film in a similar vein: that is, a great and varied cast wrapped up in a deliberately stylized take on the material. Can't wait, frankly.
In addition to the poster, here's a high-res look at Julie Taymor in character. That still has been around for a bit, but the image of Russell Brand and Alfred Molina is new this week, via Collider.
And here's the official synopsis:
In her big-screen adaptation of Shakespeare's mystical thriller "The Tempest," Academy Award-nominated Julie Taymor ("Across the Universe," "Frida," "Titus") brings an original dynamic to the story by changing the gender of the sorcerer Prospero into the sorceress Prospera, portrayed by Oscar winner Helen Mirren ("The Queen"). Prospera's journey spirals through vengeance to forgiveness as she reigns over a magical island, cares for her young daughter, Miranda, and unleashes her powers against shipwrecked enemies in this exciting, masterly mix of romance, tragicomedy and the supernatural.
[poster via Yahoo]