New Poster: Gareth Edwards' Monsters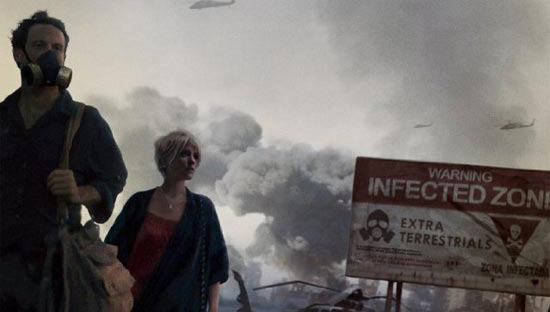 I'm trying not to see too much from Monsters, the film by director Gareth Edwards that has been building buzz at festivals over the last few months. I've heard nothing but good things about the movie, and am eager to just see it for myself without having too many images already in my head. But this poster is quite nice, and shouldn't do anything to skew your knowledge of the movie too far.
There's definitely the sense that Magnet is pushing the marketing into District 9 territory — the trailer and poster both work that angle pretty hard. The film, I'm told, isn't quite so much of a District 9 twin as you might be led to believe. And even with the District 9 leanings, I like this poster quite a bit.
Peter saw the film at Cannes and really liked it. Here's some of what he's written previously, in case you're hungry for more information:
Hollywood is already going nuts over the filmmaker, who supposedly made the film for a fraction of a million dollars (maybe even as little as $15,000), and some are touting him as the next Neill Blomkamp. We've posted a featurette showing how director Gareth Edwards was able to achieve what he did with Monsters on such a low budget, and we've even posted a video showing you how Edwards produced the 250 high definition resolution effects shots by himself in in his bedroom for the 2008 one hour BBC drama Attila the Hun.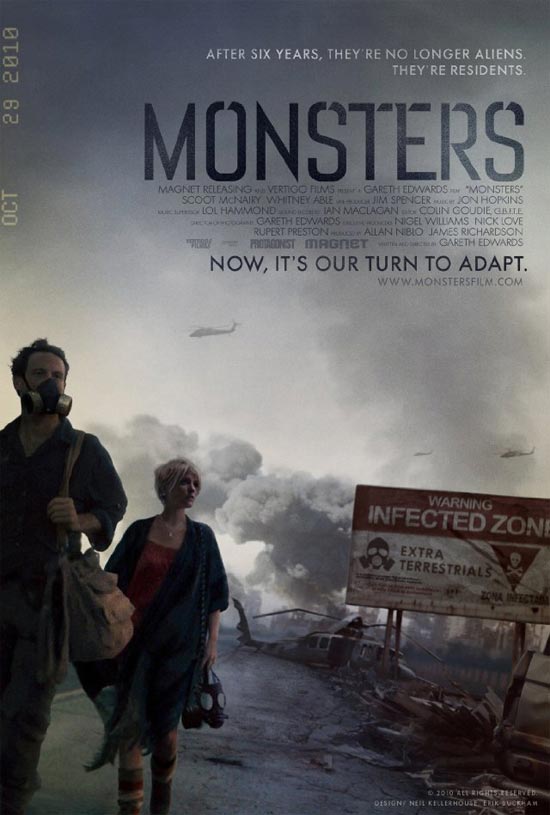 Six years ago NASA discovered the possibility of alien life within our solar system. A probe was launched to collect samples, but crashed upon re-entry over Central America. Soon after, new life form began to appear and half of Mexico was quarantined as an INFECTED ZONE. Today, the American and Mexican military still struggle to contain "the creatures"...... Our story begins when a US journalist agrees to escort a shaken tourist through the infected zone in Mexico to the safety of the US border.