Timur Bekmambetov Will Direct Abraham Lincoln: Vampire Hunter; Offers Updates On Wanted 2, Moby Dick And More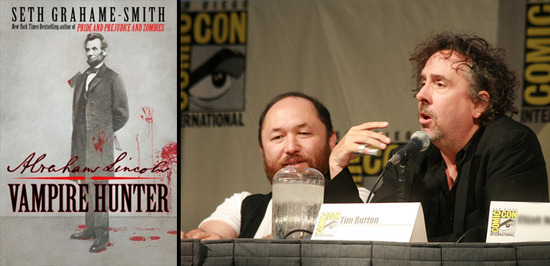 We've wondered for quite some time what film Timur Bekmambetov might direct next. At one point, it seemed like he would follow his last movie, Wanted, with a direct sequel. But that is taking time to come together, and recently his prioritites have shifted to adapting the novel Abraham Lincoln: Vampire Hunter, which he is also producing with Tim Burton. Now the director confirms that as his next effort, while offering updates on quite a few other projects to which he's been linked.
Speaking to Empire, Bekmambetov said that he hopes to shoot the Lincoln film in America this winter, adding,
That one I'm prepping to direct myself. It is not a comedy at all – it is a very entertaining, epic history lesson for millions and millions of teenagers. If you remember Nightwatch, it is maybe in the vein of that kind of movie. We are keeping the traditional look of Lincoln – the big hat and the beard. He has to be historically correct, but with a few special weapons.
I don't know under what circumstance a fictional story counts as an "epic history lesson for teenagers," but I guess he's got to come up with a snappy way to describe the movie. I'd go with something else, but then I probably wouldn't make Abraham Lincoln: Vampire Hunter, either.
Bekmambetov also says that "we are discussing Wanted 2 every month. We are working on it now, but I think it will be after Lincoln because James (McAvoy) is working on the X-Men: First Class," and he adds that studio oversight on Wanted is part of what led him to develop Lincoln outside the studio system.
He also specifies that 20,000 Leagues Under the Sea and Moby Dick are still in development, and that each of those is in the script stage. He'd like to direct Leagues, as well.
Other projects in development are The Knights Templar and the English version of Black Lightning, neither of which he plans to direct. And there's Red Asphalt,  "a movie about drunk driving... in 3D! 3D is the only way to recreate what you feel when you drink and drive." (Just what we've been waiting for — an well-informed, educational movie about the drunk driving experience.)
Finally, fans of Night Watch and Day Watch, don't get your hopes up for the third film in that story any time soon. Of Twilight Watch, the director says,
I hope it happens. It's like first love – we created this world and now I'm watching the Twilight movies, I feel like we missed something by not doing Twilight Watch. Because there are a lot of ideas in those films that we were going to use. But we didn't finish the story. It would be good to get around to it one day.
(One more note: that film The Last Witchhunter we once mentioned? It's not happening, or at least not with Bekmambetov.)