Trivia: Slyvester Stallone Auditioned For Han Solo; Edgar Wright Was Offered Drag Me To Hell, The Green Hornet, The Crazies And Failure To Launch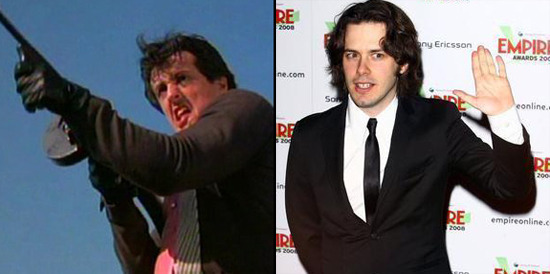 There are a couple of small pieces of trivia that cropped up this week, none really worth a headline of their own, but entertaining enough that I've crammed a couple together here. One comes from the deep history of Sylvester Stallone, who talks about an audition he once had in front of George Lucas. The other tells of a set of films that could have borne Edgar Wright's name, had things been a little bit different.
In the fifth of the series of AICN articles in which Sylvester Stallone answered fan questions, the actor/director responds to a question about his rumored audition for the role of Han Solo:
Yes as a matter of fact I did and it didn't meet with much approval since when I stood in front of George Lucas he didn't look at me once, obviously being very shy. Then I said 'Well obviously I'm not the right type.' but it all worked out for the best since I don't look good in spandex holding a Ray gun.
The audition took place prior to Stallone's breakout with Rocky; at the time, he was probably best known for being a supporting actor in Death Race 2000. (From which, naturally, comes the image above.)
And then there's a set of 'coulda-been' Edgar Wright films, reported in the new issue of Empire. Wright told the magazine that he was offered at least one totally out of left field project: Failure to Launch, released in 2006 with Matthew McConaughey and Sarah Jessica Parker. That's a big WTF.
But there were more interesting options on the table at various points. Sam Raimi tried to get Wright to direct Drag Me to Hell, for one. But Wright says (correctly) "it was so obviously a Sam Raimi film. I told him as a fan I wanted to see him do it."
And Wright was also offered The Crazies and The Green Hornet, though we don't know at what stage of The Green Hornet's development that offer was made. Those offers aren't so remarkable — as studio films, naturally they were likely sent out to a set of top-choice directors. Edgar Wright, who has a loyal fan base but is also a skilled and imaginative director, would certainly be on many of those lists. Just as well they didn't happen; if Wright is going to work for a studio, I'd much rather it be with a film like Scott Pilgrim, where he's creating something that meets his own specifications.
[Edgar Wright info via The Playlist]