Tony Scott Attached To Direct Mark Millar's 'Nemesis'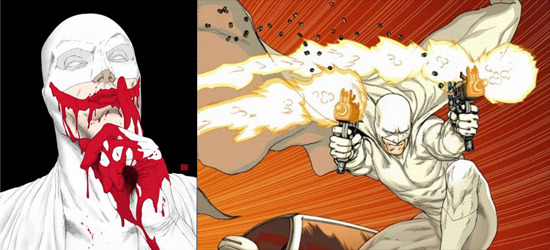 Back in December, Mark Millar was talking up his new comic series, Nemesis, created with artist Steven McNiven. The concept is simple: what if a Bruce Wayne type became The Joker instead of Batman? Almost immediately there was discussion about a possible film. Some of that was discounted, because Millar talks up possible films rather often. He floated Guy Ritchie and Sam Raimi as possible Nemesis directors, for instance. But this one is moving forward, and possibly fast.
Furthermore, as if Tony Scott didn't have enough projects on the fire (we just mentioned him being in talks to direct The Associate, and he's got several other things going) the director is now attached to direct Nemesis.
Bleeding Cool reports and Deadline confirms, adding that Fox picked up the comic rights and Scott Free will produce. (Marvel is publishing Nemesis, but the rights remained with Millar and McNiven.)
The company has yet to put a writer on the project, so this won't be Scott's next film. That will be (probably) one of the three movies he's been working with recently: Potsdamer Platz, Hell's Angels or The Associate. Potsdamer Platz has Mickey Rourke, Javier Bardem and other actors attached, but has sounded like it was still in the rewrite stage.
Here's what Millar had to say about Nemesis last year:
What if this genius billionaire was just this total shit, and the only thing that stood between him and a city was the cops? It's Batman versus Commissioner Gordon, in a weird way. Or maybe a super-villain version of Se7en. A billionaire anarchist up against ordinary people. The Joker's the best thing in the Batman movies, so this guy is a bit of an amalgamation of all the stuff we like.
Nemesis is the world's smartest man, and the bad news for us is that he's the world's only super-villain. That means he's got freeze guns and jump-jets and all these James Bond gadgets and he's using them against us. To entertain himself, he picks a different cop every year and makes his life a misery. The book opens with him fucking over Japan's top cop, and then our story, the mini-series, takes place as he shifts his attention to Washington and his first American attacks.
For one take on the comic, here's a review of the first issue at Newsarama.
Before anything else, however, Tony Scott has the film Unstoppable on the way. The trailer hit this week, and has been making waves since.