New Images And Video Interviews: Brad Anderson's 'Vanishing On 7th Street'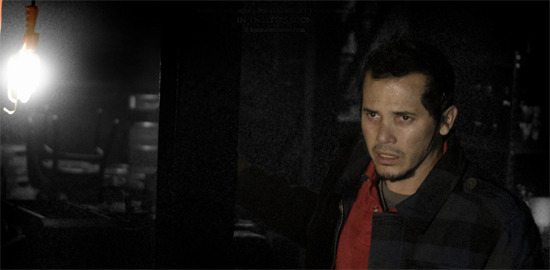 We've seen images from Brad Anderson's new film Vanishing on 7th Street, and knew that it stars Hayden Christensen, Thandie Newton and John Leguizamo. But we haven't known much about the film. Now there's a little set of behind the scenes interviews that give a few tiny details away, as well as a new poster and some other materials, including clips of much of the film's score, by Lucas Vidal.
The official plot recap is as follows:
A mysterious, seemingly global blackout causes countless populations to simply vanish, leaving only their clothes and possessions behind. A small handful of survivors band together in a dimly-lit tavern on 7th Street, struggling to combat the apocalyptic horror. Realizing they may in fact be the last people on earth, the darkness hones in on them alone.
But what did John Leguizamo let slip, if anything, in the following statement in the EPK interviews?
When I read it, I was really creeped out and scared in my own house. It's things that you really think about...all the stuff we talk about, the anti-matter, smashing particles at CERN in Geneva, are all really happening...now Brad has added an extra layer [to my own paranoia] with actual facts.
Meanwhile, screenwriter Anthony Jaswinski says,
It's one of the few movies that, for what it's worth, for me, the way I envisioned it, it really kinda came out to be. it's got this creepy apocalypse around the corner. there's not a lot of jolts, but that wasn't what was intended. the idea is to make the hairs on the back of the neck stick up.
For the music I mentioned, check out the film's official site, which offers 30-second clips of nine tracks from the score, and has a handful of other images buried in flash screens.