Robin Wright And Stellan Skarsgård In Talks For The Girl With The Dragon Tattoo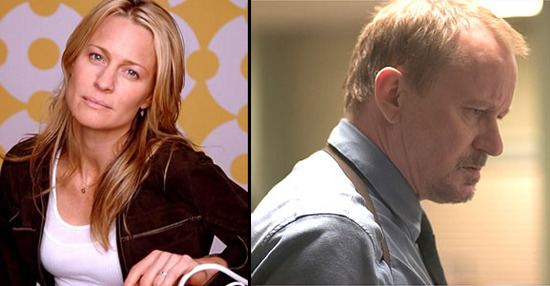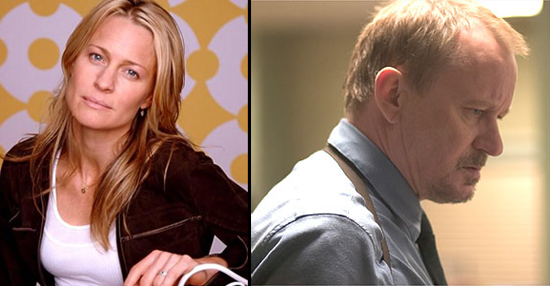 Robin Wright has an increasingly promising slate of films coming up: she's in Robert Redford's The Conspirator (in the title role) and is shooting a part in Moneyball, where she'll play the ex-wife of Billy Beane, played by Brad Pitt.
And now she's in talks to work with David Fincher in his new version of The Girl With the Dragon Tattoo, which was recently confirmed to star Daniel Craig and may also feature Stellan Skarsgård.
Deadline says that Wright would play Erika Berger, aka the publishing partner of Craig's character Mikael Blomkvist and his occasional lover. Not the biggest part, really, though she and Craig would get a couple of meaty scenes together. I might have preferred to see Wright as one of the women of the Vanger family, whom Blomkvist is hired to covertly assess.
But, realistically, those won't be very big parts, either, even if she played the most pivotal of those possible characters. (None of the characters in the film represent very big parts outside of Blomkvist and his partner Lisbeth Salander.) So this is probably the best place for Wright to be, especially since her character appears in the other two books in the series as well.
Meanwhile, Stellan Skarsgård told Variety
I've met (helmer David) Fincher; I want to work with him; he wants to work me. I've had a concrete offer, and now we are in negotiations. The contract is for the period September to March, but I don't know yet when I am supposed to start my part of the film.
Who would the actor play? Martin Vanger, which is a pretty serious role. If Skarsgård ends up with that role, I'll be interested to see what he does with it, and how he differentiates his take from that of Peter Haber, who played the part in the Swedish film version. Haber was good, but there's room to improve and push the role into deeper waters. But that's what I'm hoping from Fincher's version in general.
And no, there's no word on who'll play the key female role of Lisbeth Salander. Ellen Page, Mia Wasikowska, Emily Browning (Sucker Punch), Sarah Snook (Sleeping Beauty), Rooney Mara (The Social Network), Sophie Lowe (Blame), Lea Seydoux and Fish Tank breakout Katie Jarvis have all reportedly tested or been considered within the past week. Where does that leave us? With a lot of possibilities but no reliable info. Jarvis might be a great possibility, though — of this list, she might be the one I'd put my money on now.