The Number 23 Scribe To Pen Remake Of An American Werewolf In London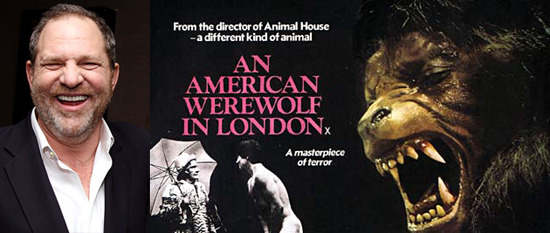 Last year it was announced that the Weinstein brothers had acquired the rights to remake An American Werewolf in London, and my heart sank. Since then, there's been no news of any progress on the project, and I promptly forgot about it.
That was a happier time. And a relatively short-lived one.
Alas, looks like the remake is starting to kick into gear, with the studio looking to Fernley Phillips, the writer of The Number 23, to tackle the screenplay. Learn more about what direction they plan to take the film after the break.
The Los Angeles Times, who reported the news, is saying that The Weinstein Co. is looking to give the movie "a modern spin". Bloody Disgusting adds that they've been told the Weinsteins "are really looking to depart from John Landis' [film]."
Good. Anything that separates this film from the '81 classic is fine by me. That aside, it's telling that no interest has been expressed in trying to stay true to the original; I'd say that's proof enough that this is no more than a lazy cash-in, as there's nothing intrinsically unique about the basic plotline behind An American Werewolf in London—which follows two American tourists in England who are attacked by a werewolf, and suffer the expected consequences. What makes the film special is its genre-bending wit and energy, and top notch direction from John Landis (as well as Rick Baker's special FX work, natch). Trying to replicate that combination at all would be a fruitless endeavor, but this news update essentially provides confirmation that the decision to remake the film was not a creative one. My guess is that the only reason this remake is happening is because werewolves are 'in' right now, and the studio couldn't pass up the opportunity to snatch up the rights to a well-known title in which they're prominently involved.
Without seeing more of his work, it's too early to say if Fernley Phillips can actually produce anything worthwhile from the film's simple premise, but based on his script for The Number 23, I doubt it. The writing in that movie was completely asinine, trying so desperately to be clever, and laughably failing every step of the way. Still, I doubt he's capable of coming up with anything worse than what we saw in An American Werewolf in Paris.
Fernley currently has his name attached to two other projects in the works: the Bryan Singer-produced You Want Me To Kill Him?, based on a true story about a strange Internet relationship between two young boys; and another remake, titled At the End of the Spectra, starring Nicole Kidman and directed by Juan Felipe Orozco (who also directed the original).