Movie Trailer: Burlesque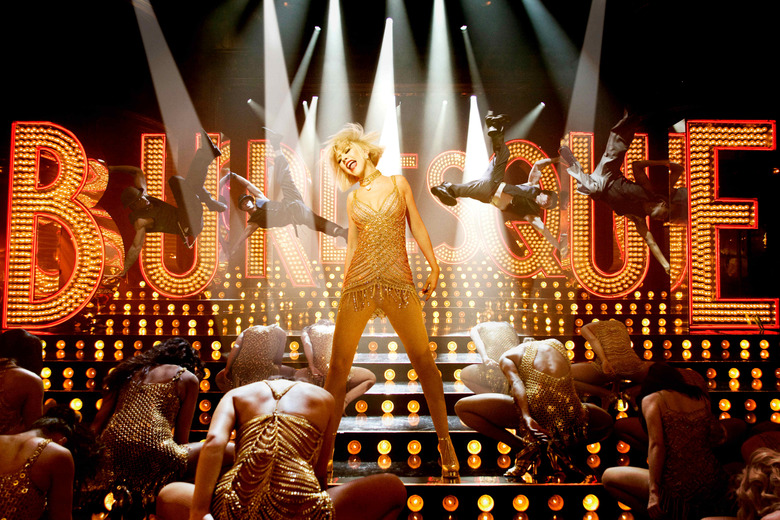 A movie trailer for Steve Antin's Burlesque has just debuted. Those interested to see Christina Aguilera's theatrical debut should hit the jump for the trailer and for a plot synopsis of the film. Burlesque hits theaters on November 24, 2010.
Don't get me wrong: I think Christina Aguilera has an amazing voice and am constantly baffled by how she has been eclipsed by Britney Spears (whose talent comes nowhere close). But in my opinion, this trailer is a disaster.
The trouble starts right away with Aguilera's too-earnest, kind-of-trying-too-hard delivery of "You're kidding right?" Then, a flurry of exposition conveying exactly the extreme degree to which Cher is better than everyone else, as well as the extreme degree to which Aguilera is, like, TOTALLY a fish out of water.  All the main actors deliver the most clichéd dialogue possible for this type of film, and the results are blandly predictable. Gee, I wonder if Christina Aguilera's first movie will allow her character to demonstrate that she actually has talent? I'm probably being too harsh but this trailer is less comparable to the trailers of films such as Nine, and more to those of films such as Crossroads.
What do you guys think, though? Is Aguilera convincing in the brief moments we see here? Are you looking forward to the film?
Plot synopsis:
An upcoming musical film starring Christina Aguilera, Cher and Stanley Tucci. Christina Aguilera will make her theatrical film and musical debut as the leading character, a "small-town girl with a big voice", who finds work at a Los Angeles neo-burlesque club, inspired by Bob Fosse's Cabaret. The film also marks the first starring role in a decade and first musical film for Cher. She plays Tess, a former dancer who struggles to keep the nightclub open and serves as a mentor to Christina Aguilera's character, Ali. Aguilera's love interest will be played by Cam Gigandet, and Stanley Tucci has been cast as the nightclub's manager.