Amy Adams And Viggo Mortensen Join The Walter Salles-Directed 'On The Road'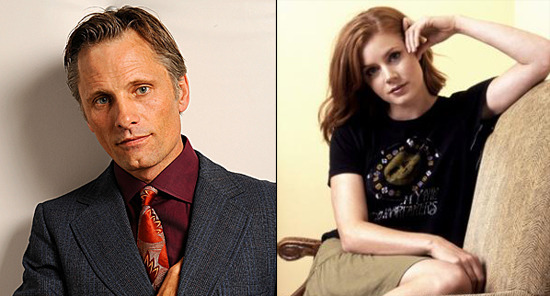 I'm not quite sure how I feel about the upcoming film version of Jack Kerouac's On the Road, which will be directed by Walter Salles (The Motorcycle Diaries). But I just became significantly more convinced about the viability of the film thanks to two new cast members: Amy Adams and Viggo Mortensen.
has the details, saying that Adams will be "Jane, the emotionally damaged junkie mother of two children and the wife of Old Bull Lee," while Mortensen will play Bull Lee.
In Kerouac's novel, 'Bull Lee' was an analog for William S. Burroughs, whose pen name and occasional alter ego was Bill Lee. Jane is a stand-in for Joan Vollmer Adams, who shared an apartment with Kerouac and Burroughs in '44. She and Burroughs eventually married, and had a child, but he accidentally shot and killed her in 1951.
Can't lie here: I'm pretty excited to see Adams and Mortensen playing these characters. I doubt Mortensen remains as emaciated as he was for The Road, but that look minus the beard would be just fine for Bull Lee. (And will I be able to resist comparing them to Peter Weller and Judy Davis from David Cronenberg's Naked Lunch? Nope.)
But then there's the rest of the equation. OK, Salles working again with his Motorcycle Diaries screenwriter Jose Rivera is promising, but I'm not convinced about the rest of the cast.
Garrett Hedlund
and Sam Riley is Sal Paradise. (Those being, respectively, surrogates for Neal Cassady and Kerouac.) Kristen Stewart
, the young first wife of Dean Moriarty, while Kirsten Dunst is Camille, based on Carolyn Robinson, who became his second wife. Of those four, the only one I'm fully intrigued by is Sam Riley as Sal Paradise, though I expect Dunst is more than capable of doing the work as Camille. Hedlund and Stewart are worrisome. (I haven't heard great things about Hedlund in Tron, for one.)
But then again, so is the entire idea of the project. I'm not a particularly great fan of Kerouac, so that doesn't come from a feeling of reverence towards the source. This one just seems like it has so many ways to go wrong.
On the Road
this past Monday in Montreal. Expect it to hit festivals in 2011.