Sales Trailer: The Bang Bang Club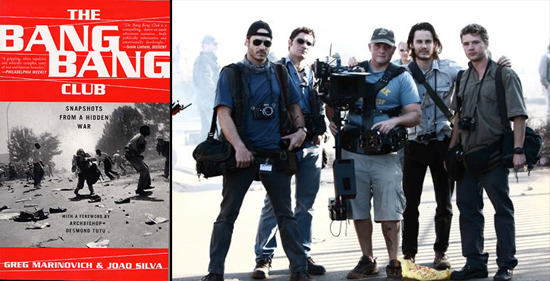 The Bang Bang Club, a dramatization of a true story about four photographers who documented the end of apartheid in South Africa, is scheduled for a world premiere next month at the Toronto Film Festival. I thought we'd covered this film in the past, but there's little about it on the site. So while this trailer (which I believe is a sales trailer, rather than an official theatrical one) isn't super-new, this is a good time to present it.
South African documentarian Steven Silver directed the film, with Ryan Phillippe, Taylor Kitsch, Frank Rautenbach and Malin Akerman as the core cast. Superficially, you might assume that's a group that looks a little, let's say...pretty...for a this group of photographers. But the footage looks intriguing, and I do like the cast. I'm happy to see Kitsch on movie screens in something that isn't a big-budget action deal, too.
The film is based on a memoir by two of the photogs, Greg Marinovich and Joao Silva. (Played by here by Phillippe and Neels Van Jaarsveld.)
Here's the official synopsis, via the Toronto fest:
The Bang Bang Club was the name given to four young photographers, Greg Marinovich, Kevin Carter, Ken Oosterbroek and Joao Silva, whose photographs captured the final bloody days of white rule in South Africa and the final demise of apartheid. The film tells the remarkable and sometimes harrowing story of these young men – and the extraordinary extremes they went to in order to capture their pictures. The film stars Ryan Phillippe, Malin Akerman, Taylor Kitsch, Neels Van Jaarsveld and Frank Rautenbach.
[via Vulture]