Spielberg Needs A New Lincoln; Liam Neeson No Longer Attached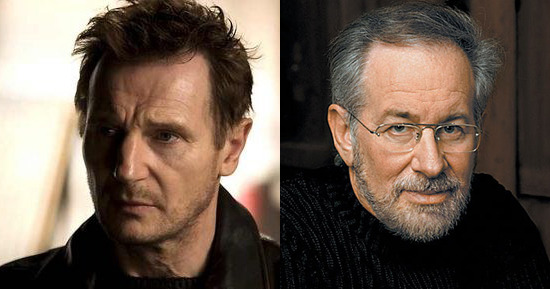 For years Steven Spielberg has been developing a biopic of Abraham Lincoln, and Liam Neeson has long been attached to the title role. But the film has failed to come together for various reasons, and Spielberg is now about to film War Horse, his adaptation of the award-winning play based on Michael Morpurgo's novel. Now there's a comment from Liam Neeson that seems to dash any hopes of ever seeing him in Lincoln, should it actually get made.
"I'm not actually playing Lincoln now," Neeson said to GMTV. "I was attached to it for a while, but it's now I'm past my sell-by date." Without the latter comment, this could easily be taken as Neeson just saying 'the movie isn't happening now.' But that second sell-by date comment, suggesting that he thinks he's too old for the part, is pretty telling. Neeson is currently two years older than Lincoln was when he was assassinated, and I'd think he could still play the part for another few years, but maybe it's just time to move on.
Meanwhile, last we heard, the film was still in development, with Tony Kushner working on another draft of the script. When Robert Redford began to make his own Lincoln-related film, The Conspirator, last September, Spielberg said,
We are very happy that Redford will be doing this Lincoln movie. It is completely different from what our DreamWorks Lincoln movie will be, and we believe that it will add to the commercial potential of our film. Lincoln as a subject is inexhaustible.
And we've previously known the following:
The movie only covers two months of Lincoln's life.
The the first draft covered four months and was 500 pages long.
The 13th amendment, by which slavery was abolished,  "is a big thing in the movie."
Lincoln died just over four months after the 13th amendment was enacted, so either these two months of screen narrative are non-continuous, Kushner has taken some liberties, or Lincoln's death won't be part of the movie.