Casting Notes: Paul Giamatti To Play Nikita Khrushchev; Russell Brand In 'Hawkwood'; Jordana Spiro In 'Trespass'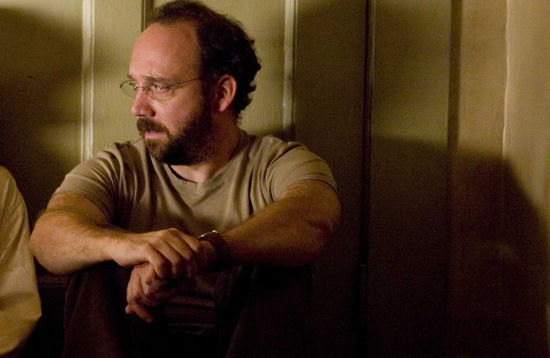 Paul Giamatti is moving from one historical television project (John Adams) to another: he'll play former Soviet Union premier Nikita Khrushchev in K Blows Top. The odd name of the HBO film might be your first clue that this won't be an ordinary revisitation of the cold war. The film will be based on Peter Carlson's book of the same name, which details Khrushchev's two-week American trip in 1959.
That's the time period when the Premier was denied a trip to Disneyland because of security concerns, and during which a visit to IBM headquarters ignited a fancy within the premier for IMB's self-service cafeteria. Khrushchev brought self-service back to the USSR afterwards. Khrushchev had a long and occasionally pivotal career, and I'll be curious to see how much context can be crammed into the film. I'll happily watch Giamatti try to make it work. [Variety]
After the break, Russell Brand picks up a sword and Joel Schumacher's film with Cage and Kidman gets a new player.
Russell Brand has set in motion Hawkwood, an action comedy at Fox. Jared Stern will write the script, but the idea right now is that Brand would play the hero in a film that "follows the adventures of a real-life swashbuckling figure, John Hawkwood. A morally challenged but gifted swordsman, Hawkwood was paid to lead various European armies during the Renaissance wars."
Brand will produce as well; he learned of Hawkwood and brought the idea to Peter Chernin's company. This could be a good and very welcome change of pace for Brand, at least if he plays it straight. Stern should be on his side; the writer has already worked to tailor the Arthur script to Brand's abilities. And what the hell, it can't be any worse than Robin Hood. [Deadline]
Finally, Jordana Spiro from My Boys will appear alongside Nicolas Cage and Nicole Kidman in the Joel Schumacher film Trespass. That's right: Kidman and Cage in a movie together, and directed by Schumacher. It's like someone took movie listings from 1999 and threw them in a blender.
Anyway, the movie features "a husband and wife (Kidman) taken hostage by four brutal perpetrators (led by Cage) seeking easy cash. Complications ensue amid the unexpected discovery of betrayal and deception." Spiro evidently plays Cage's girlfriend. [The Playlist]