Zach Galifianakis Books New Comedy With DreamWorks; Grills Steve Carell On 'Between Two Ferns'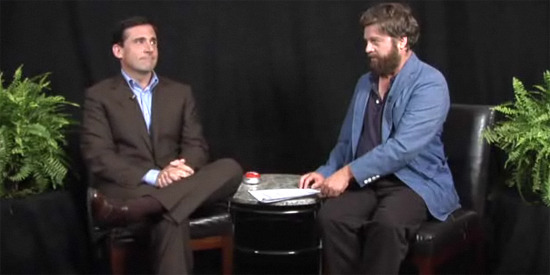 Everyone want to be in the Zach Galifianakis business these days. He's in the DreamWorks film Dinner for Schmucks, which opens this week, and now the studio has bought a new pitch that is being set up as a starring vehicle for the comedian. Reply All will be written by Phil Johnston; he also wrote Cedar Rapids, the Ed Helms comedy that just finished shooting.
Galifianakis will be "a guy who hits the "reply all" button to an indiscreet e-mail, and then has to deal with the repercussions." That's a particular horror we can all relate to, and for which Galifianakis should be ideally suited, and there might be lots of room to build a great cast around him. [Deadline]
But the bigger news on the Galifianakis front is that he's got a new episode of Between Two Ferns, in which he 'interviews' Schmucks co-star Steve Carell. 
Actually, it's almost that Carell is interviewing Galifianakis. He comes out of the gate swinging at Zach, determined not to be taken in by the show's typical insulting approach to guests. From there it's all fat jokes, Evan Almighty jokes and a well-timed bit of prop comedy at the end.
Plus the wonderful line, "You look like a homeless guy that's been to a soup kitchen that specializes in ice cream soup."