Sean Bailey: David Fincher Believes '20,000 Leagues' Will Be His 'Empire Strikes Back'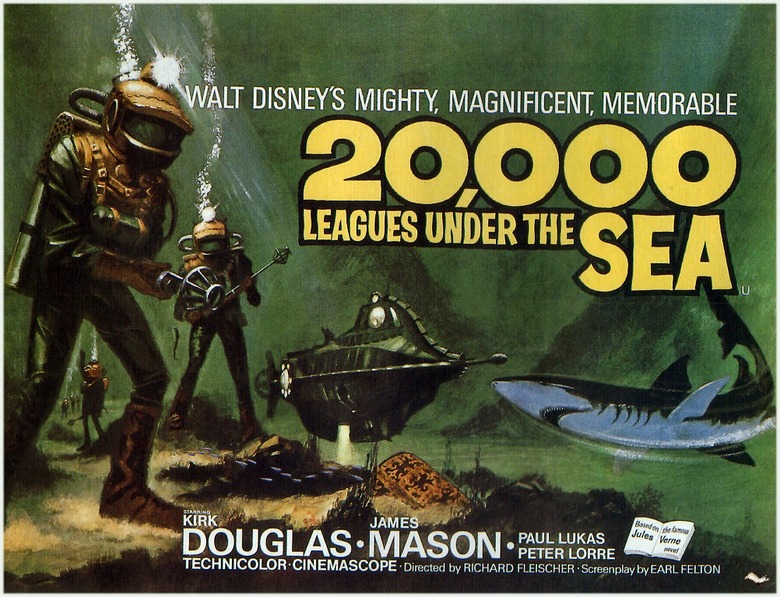 While at Comic-Con, I had a chance to ask producer turned Disney President of Production Sean Bailey about the recently announced David Fincher (Se7en, Fight Club) helmed 20,000 Leagues Under the Sea. Find out what Bailey said after the jump.
I'm really excited. One of the great benefits of this job is I get to meet with filmmakers who I tremendously admire. So to be able to sit down with David and have David say, "Look, I've never really thought about Disney before, but I really want to try to do my Empire Strikes Back. And I think 20,000 Leagues is the title." It's a thrilling conversation to be in. So we had a lot of conversations about what we viewed as Disney, and what David obviously so brilliantly pushes for in his movies. And the fact that we were able to kind of align those two goals is...I have been really excited about it. ... It's a bold, you know, Fincher-esque take. It's a bold, aggressive...It's got some of the characters from the original. It's got Land, it's got Aronnax. It's got Nemo, of course. But it's kind of a bold way in.
Excited yet? I know I am. Look for my full interview with Bailey later this week.
Talking to MTV at Comic-Con, Fincher described the film as "a gigantic steampunk science fiction movie from 1873."
Previously:
As you might recall, the project was previously titled Captain Nemo: 20,000 Leagues Under the Sea, and was setup with director by McG with a script by Bill Marsilli's (Deja Vu), with rewrites by geek screenwriter Justin Marks (Masters of the Universe, Super Max) and Randall Wallace (Braveheart). The project was shut down a few weeks after Disney chairman Dick Cook left Disney. Apparnetly the dark tone of McG's version was a big concern of new studio head Rich Ross and prodution head Sean Bailey.
Fincher approached Disney production head Sean Bailey a few weeks into his job this winter, which is around the same time Disney announced they had dropped the project from their slate. The project was developed under the radar and it was only in the past few days that the official deals were put on the table. Fincher developed the new take on the franchise with Bourne Ultimatum/The Informant! scribe Scott Z. Burns, which "will aim to be visually dazzling" and is being described as "being in the vein of Star Wars or The Empire Strikes Back."
The previous screenplay was to tell the origin story of Nemo and his warship, the Nautilus. The unofficial logline read:
"A fugitive whaler teams up with a naturalist, a mysterious woman and a captain of a futuristic submarine, to search for a lost underwater civilization that holds libraries of vast knowledge and a weapon with the power to destroy mankind."
Of course, this storyline will probably be completely abandoned. No details about Fincher's take are known at this time. Burns will start writing the screenplay immediately, and Fincher will likely have enough time to tackle another project before going under the sea (probably the much talked about The Girl With The Dragon Tattoo).
20,000 Leagues Under the Sea was the first live action film in Walt Disney history, and is considered by many to be the most mature film they have ever produced. Based on the Jules Verne novel of the same name, the 1954 film told the story of a ship sent to investigate a wave of mysterious sinkings encounters the advanced submarine, the Nautilus, commanded by Captain Nemo.
The film is best remembered for the giant-squid battle and for the Nautilus itself. It won two Academy Awards in 1955 for Best Effects and Set Decoration, and was also nominated for Best Film Editing.