TV Trailer: Dexter Season 5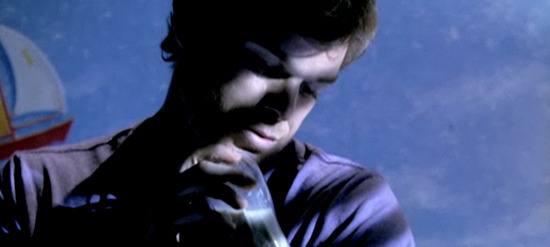 Unfortunately, I missed the Dexter Comic-Con panel this weekend, but thankfully Showtime has just put the season five trailer it revealed at the convention online for everyone to see. Now after seeing it, I wish I had carved out the time to make the panel, because it's a helluva trailer.
After the break, find the trailer as well as my general impressions. And of course, spoilers for the end of Dexter season four abound.
With the beginning of season five, Dexter is facing the death of his wife, and what looks to be an incredible amount of guilt. "It was me," he says to the police arriving to the scene of Rita's murder (presumably by John Lithgow's Trinity Killer), and the entire season seems to revolve around those words. He blames himself, Rita's children blame him, and Detective Quinn (Desmond Harrington) — who has been suspicious of Dexter for some time — seems convinced that he had something to do with Rita's murder.
Dexter has spent the entire series dealing with his inner-demons, but guilt is definitely something new for him — so I'm interested to see the direction this season heads. And on top of that, there's the fact that Debra is hunting down Kyle Butler — Dexter's season four persona which was used to get closer to the Trinity Killer and his family — and that the police have learned he was at the Trinity Killer's house.
It seems like this season will be the one where Dexter finally reveals he's a serial killer to someone, and I have an inkling feeling that will be Debra — who has shown in the past that she would walk through fire for her brother.
Needless to say, I'm very excited to see what happens. Check out the trailer below: