Comic Con: Marvel Assembles The Avengers In Hall H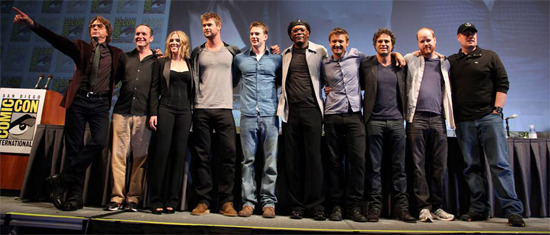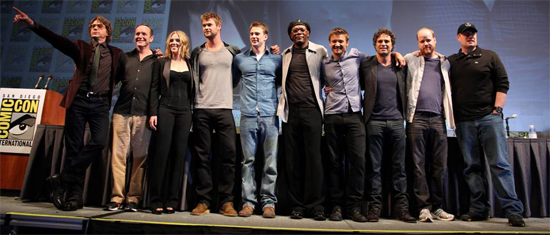 It was a pretty poorly kept secret that Marvel planned to formally announce The Avengers today during the Marvel Studios panel in Hall H at the San Diego Comic Con, but that didn't stop thousands of people going into geek rapture when the full cast walked out on stage.
After the Thor panel concluded, Marvel Studios president Kevin Feige dimmed the lights one last time, and an Avengers 'A' logo slowly resolved on screen as the voice of Nick Fury (Sam Jackson) explained the formation of the world's biggest superhero team. And then Jackson himself came on stage to introduce the cast. All the details are after the break.
Jackson introduced the cast we know, all of whom strode out on stage. We'd just seen Clark Gregg (SHIELD Agent Coulson), Chris Evans (Captain America) and Chris Hemsworth (Thor) on other panels, but the appearances of Robert Downey, Jr. (Iron Man) and Scarlett Johansson (Black Widow) were surprises.
Then Downey took the mic, and before he got down to business he took a moment to comment on the wild ambition of Inception before proclaiming the idea of bringing together the leads of all of Marvel's superhero films for The Avengers to be the most wildly ambitious movie idea yet hatched.
Then he introduced Jeremy Renner as Clint Barton, aka Hawkeye, and Mark Ruffalo as Bruce Banner, aka The Hulk.
(The latter got a mixed response, because only minutes before an audience member had asked Feige about the return of Edward Norton, and boos erupted from the audience when Feige downplayed the dismissal of Norton.)
Then Joss Whedon came out, grinning like a madman. "I've had a dream all my life," he exclaimed, "and it was not this good!" (Then, in typically self-depricating style, he jokingly added "and I am going to blow it.")
There wasn't much more to the announcement than that, and if you've been following along, none of the cast count as surprises. But was it cool to see everyone on stage together? Yes. It definitely was.
Check out the Avengers teaser site for a representation of the 'A' logo. And here's the cast photo (click to enlarge slightly) and caption direct from Marvel:
(L-R) Robert Downey Jr., Clark Gregg, Scarlett Johansson, Chris Hemsworth, Chris Evans, Samuel L. Jackson, Jeremy Renner, Mark Ruffalo, Director Joss Whedon, Producer and Marvel Studios' President Kevin Feige from the motion picture "MARVEL STUDIOS' THE AVENGERS" in which Earth's Mightiest Heroes including Iron Man, The Incredible Hulk, Captain America, Thor, Hawkeye, Black Widow, Nick Fury and Agent Coulson assemble together on screen for the first time.