Comic-Con: Paul Panel And Footage Description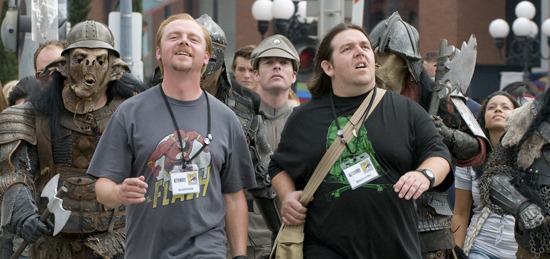 We've been waiting for some time to see footage from Paul, director Greg Mottola's follow-up to Adventureland, and given what we've seen today at San Diego's Comic-Con, the wait was certainly worth it. Mottola, along with much of the cast –including Simon Pegg, Nick Frost, Seth Rogen, Sigourney Weaver, Jeffrey Tambor, and Jason Bateman — hit the stage to chat about the film, and give us our first glimpse at the footage. It's also the first good look we've gotten at the titular alien, voiced by Rogen.
The footage starts out with Frost and Pegg's British nerds at Comic-Con, and it was definitely surreal to see a recreation of an event we're currently attending. Mottola said that they couldn't film at the real event, but it looks to be a loving recreation — complete with costumed fans and insane crowds.
Paul's reveal was followed by quick glimpses of the rest of the cast. Bill Hader and Joe Lo Truglio play bumbling CIA agents who are commanded by Weaver to find the runaway alien, Kristen Wiig plays a young woman that Frost and Pegg accidentally kidnap, and we even caught a glimpse of Jane Lynch. I wished we got to see more of Lorenzo Zoil, Bateman's character who was described as a "badass hunter", and is also one of the villains of the film.
Tonally, the film seems to be a mix between Superbad and Shaun of the Dead. We only saw the footage once, but it does seem to have a decent amount of action in addition to the expected comedy.
Pegg and Frost mentioned that they got the idea for the film while they were shooting the record tossing scene in Shaun of the Dead. They were apparently facing terrible weather during that shoot, and their producer wondered why they couldn't make a movie somewhere sunny. That got them thinking about a film set in the desert, and then aliens quickly became involved. They ended up choosing Mottola for the film after loving Superbad.
The panel was cut short thanks to a Comic-Con kerfuffle, but we did get one interesting bit of info: Apparently, Lo Truglio also worked as a stand-in for Paul so that Frost and Pegg would have someone to talk to. Rogen admitted that some of Lo Truglio's ad-libbing was hilarious, and he ended up using some of his jokes when he voiced over Paul's scenes.
Paul is currently slated for a March 2011 theatrical release.