Comic Con: Drive Angry Footage Description And Video Blog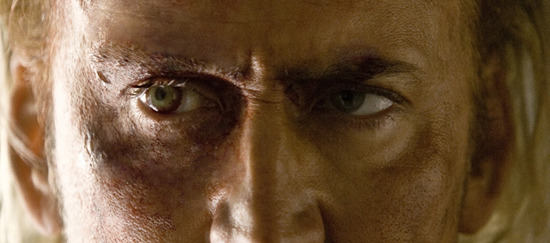 After seeing concept art and a couple of still shots from Patrick Lussier's Drive Angry, I started to wonder if the film might be the sort of action film that few filmmakers seem to get right these days — a dirty, slightly weird, possibly quite violent revenge story. (We see a lot of revenge stories, but few that are acutally decent.)
Today at the San Diego Comic Con, Summit and Lussier showed off a couple minutes of footage, and brought Nicolas Cage, Amber Heard and William Fichtner up on stage to talk about the film. Highlights are after the break.
The footage we were shown was only a couple of weeks out of post-production, but it didn't appear to be terribly rough. The 3D even looked good — certainly appropriate to the over the top nature of the story — and that's coming from someone who doesn't have much interest in the format at all. (Summit is making sure everyone knows that this isn't a post-conversion 3D job, as the film's title card currently reads Drive Angry: Shot in 3D.)
The couple of minutes shown were heavy on Nic Cage and the '69 Charger he drives throughout the movie. Car stunts, explosions, gunplay — all the stuff you'd expect to see in a kinda grungy '70s-flavored action movie.
Lussier insists the cars are all real. "No CG cars, it was all metal on metal." Accordingly, the action looks a little bit dialed-down from the stuff we often see in action films now, where everything is sped up and thrown around with the help of computers. Here you're going to see a lot of real cars, explosions and a crazy big shotgun that William Fichtner's character the Accountant, sent to bring Nic Cage back to Hell, calls 'the Godkiller.'
Think that gun sounds too far gone? This is a movie where the main bad guy tells someone "I am going to kill you and then I am going to defile your corpse."
Cage said of his character, "It's no secret that I like characters who raise more questions than answers. He's still a mystery to me, in many ways. He's kind of a protector of children." Don't worry about that last line too much. Think of this like Ghost Rider with cars and a lot more personality, and you'll be on the right track.
Lussier said that he wanted to do another 3D film after My Bloody Valentine, and that Drive Angry was conceived in 3D. The core problem was making sure the 3D rigs could be stable while mounted on cars going very fast. From what we saw, it looks like any issues with stabilization were overcome, but I'll be curious to watch the full feature and see if it really works outside the pretty forgiving climate of Hall H.
Finally, Lussier mentioned the origin of the film's title. It's actually based on something Bill Murray says in Groundhog Day: "don't drive angry." That phrase stuck, and actually pushed the development of ideas in the movie.
Here's a video blog Peter recorded with Adam Quigley and me talking about the footage. Glad to see that Vimeo is continuing its trend of pulling one of the worst possible stills of me to use as the default screen.