Movie Trailer #2: Red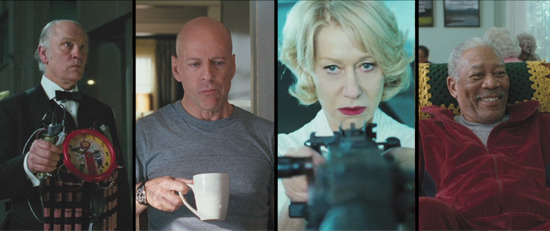 I know there's resistance to Red based on the fact that the film looks quite a bit different from the Warren Ellis comics upon which it is based. I haven't read the comic, so can only approach the film based on what I see — and I really enjoy the stuff we've been shown so far. There's one trailer already, and a second premiered today in conjunction with the film's appearance at the San Diego Comic Con.
Summit did a panel for Red today in Hall H at the San Diego Comic Con, and Warren Ellis, Bruce Willis, Helen Mirren and Karl Urban were among those in attendance. Mirren's Harvey Pekar shirt got attention, and Urban played to the Con audience when he responded to her calling Pekar a genius with "Are you out of your Vulcan mind?" (Someone give Urban some American Splendor books, quick!)
They offered up this new trailer, which I think does an even better job than the first of getting the idea of the film across. We really get to see Bruce Willis and John Malkovich interacting, and there's a good glimpse of Richard Dreyfuss and Ernest Borgnine. And we see more of the effects, which look a bit silly, but totally in keeping with the rest of the film. When one of these characters can shoot an RPG in mid-flight, you realize that maybe the intent of the film isn't to deliver supreme realism. And that's great.
Frank, Joe, Marvin, and Victoria used to be the CIA's top agents — but the secrets they know just made them the Agency's top targets. Now framed for assassination, they must use all of their collective cunning, experience and teamwork to stay one step ahead of their deadly pursuers and stay alive. To stop the operation, the team embarks on an impossible, cross-country mission to break into the top-secret CIA headquarters, where they will uncover one of the biggest conspiracies and cover-ups in government history.
Summit will open Red, which stars Bruce Willis, Mary-Louise Parker, Helen Mirren, Morgan Freeman, John Malkovich, Karl Urban, Brian Cox, Richard Dreyfuss, Ernest Borgnine, Julian McMahon, and James Remar on October 15.