Movie Trailer: The Company Men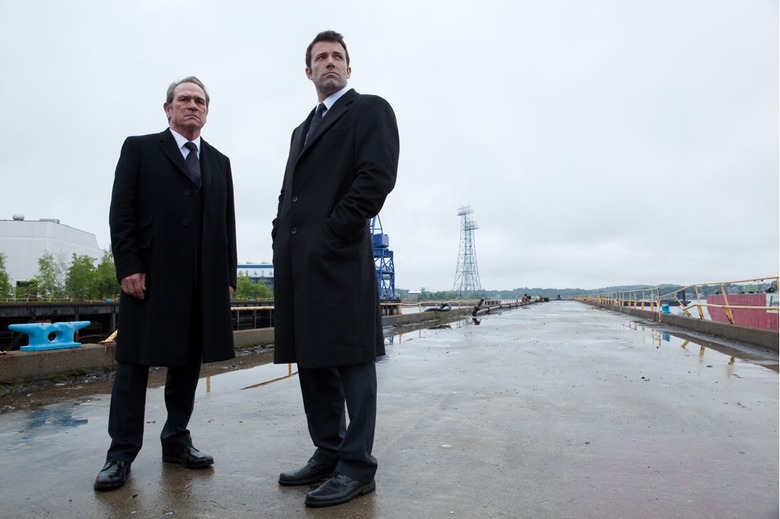 The Wenstein Co has released the first full length movie trailer for The Company Men , John Wells' feature directorial debut. Wells is best known for writing and producing hundreds of episodes of both ER and The West Wing. The movie tells the story of "three men trying to survive a round of corporate downsizing at a major company, and how that affects them, their families and communities over the course of one year." The film stars  Ben Affleck, Tommy Lee Jones, Kevin Costner, Chris Cooper, Maria Bello, Craig T Nelson, and Rosemarie DeWitt. It's also worth mentioning that eight-time Academy Award nominated cinematographer Roger Deakins shot the film.
The movie premiered at the 2010 Sundance Film Festival, where we filed a video review and interview with the director. I'd like to think of The Company Men as a spin-off from Jason Reitman's Up in the Air. Imagine being able to see what happens to some of the characters that Ryan Bingham lays off while on his business trips as a corporate downsizing specialist. In Reitman's film we see interviews and reenactments from recently laid off workers. The Company Men is their story. I've heard complaints that the story is very dry, and that the film isn't very thrilling, but I don't believe it should be. This is the reality of downsizing, and the depressing nature of our current economic situation. If a 30 year old sales manager can't find a new job, how is someone older, a senior executive, supposed to survive once his company abandons him?
Watch the trailer embedded after the jump. Please leave your thoughts in the comments below.
Here is the official synopsis:
Bobby Walker is living the American dream: great job, beautiful family, shiny Porsche in the garage. When corporate downsizing leaves him and co-workers Phil Woodward and Gene McClary jobless, the three men are forced to re-define their lives as men, husbands, and fathers. Bobby soon finds himself enduring enthusiastic life coaching, a job building houses for his brother-in-law which does not play to his executive skill set, and perhaps the realization that there is more to life than chasing the bigger, better deal.
The Company Men hits theaters on October 22nd, 2010