Sam Raimi Attached To Direct Alternate Wyatt Earp Story In 'Earp: Saints For Sinners'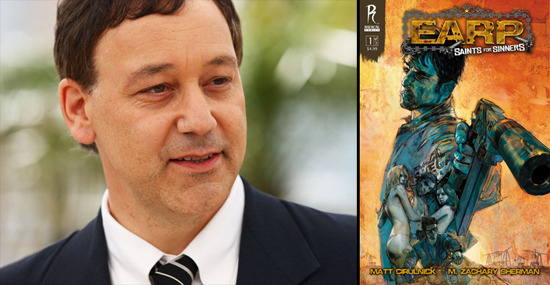 Sam Raimi may be going back to the wild west, or some wild version of the west, at least. This will be quite a different wild west from what we saw in The Quick and the Dead, however. Raimi is attached to direct Earp: Saints for Sinners, a re-imagining of the story of Wyatt Earp, based on a three-issue comic series from Radical Publishing.
As THR says, this project sees Earp "set in a future in which he takes on outlaws in a ravaged society where the only boomtown left is Las Vegas." So it's kind of a sci-fi western...go ahead, mention Jonah Hex. But could that film have been pretty fantastic if Raimi had directed it? Probably, but also a moot point.
Matt Cirulnick, who co-created the Saints for Sinners comic, will write the script. The project is being produced for DreamWorks by Mandeville Films, and Mandeville evec David Manpearl is the other co-creator of the comic. That sets off warning bells — so the comic was just created to be flipped into a movie? If you've read the published issues, please comment below. Does the series have any merit?
(That quick comic to movie flip is part of what Radical seems to be doing. It's the imprint behind Legends: The Enchanted,which is being developed for film, and remember that Sam Worthington is also working with Radical on comics that can be turned into films. Which begs the question: will we see Worthington as Earp here?)
Beyond the comic there is a sticking point here, and it is Earp.
I generally trust Raimi, but my first reaction to this is, "oh, why bother?" Tombstone and Kevin Costner's Wyatt Earp are both recent enough to stay fresh in mind — yeah, they're both approaching 20 years old, but Tombstone in particular doesn't feel like it has been around for almost two decades. Raimi will have to overcome impressions of those films. Given the changes to the story, why is this even about Earp? So Vegas is a vague stand-in for Tombstone, AZ? (Or any of the other towns that Earp called home late in life — he actually died in L.A.)
As much as I'm not much interested in seeing him direct Oz, the Great and Powerful, this doesn't seem like a big step up. He could have a lot of fun with both projects, I'm sure. Probably more on this one, since he wouldn't be beholden to Disney. And he'll have a lot more fun on World of Warcraft, or whatever that film ends up being called.
So despite the appeal of Raimi going back to the Western, this doesn't light my fire. (And if any of these Radical comic to film projects actually happen, I'll be slightly amazed.)
You can read a lot more about the comic series in this interview at CBR, and here's a more full synopsis:
In a world where the American economy has all but collapsed to the levels of the Great Depression, infamous bandits roam the country and the law is as corrupt as the criminals its sworn to stop. Yet one lawman remains a steadfast moral compass for the people: WYATT EARP. Earp has collared more most-wanted men than anyone in history – but after a violent assignment claims the life of his brother, Wyatt sets out to forge a simple life in the only boomtown left: Las Vegas. With gorgeous women and free-flowing money on endless tap, Sin City attracts more people than a modern gold rush. Though Earp no longer wears a U.S. Marshall's badge, his past is about to catch up to him. With nearly everything to lose, Earp will have to beat the odds stacked against him in order to bring old-fashioned justice to Sin City.